'Non-Violent Action For Tibet' Workshop
(Miao, Arunachal Pradesh | May 18-24, 2002)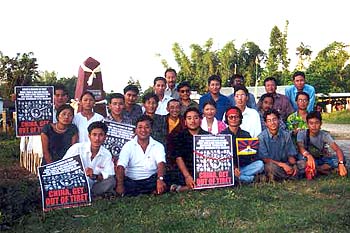 Participants and Trainors in front of the 'Martyr Pillar'

Day One (Saturday. May 18, 2002): The morning session got shortened. The participants were shy and gave only their names when introducing themselves. Some were confident and spoke well. The session to know the participants got shortened and we left with a bulk of time to spare.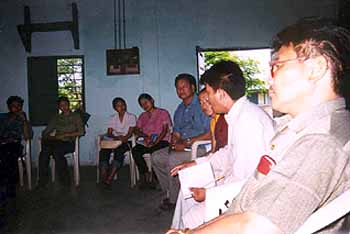 'Mapping the Tibetan Freedom Struggle' by TT Karma Choephel

The workshop team were introduced to the participants by the Miao Choephelling Settlement officer Karma Singey la, which was also the formal inauguration of the first workshop in Arunchal Pradesh. And we shifted to the talk 'Mapping the Tibetan Freedom Struggle' by TT Karma Choephel la (Member, ATPD) followed by a question and answer session.

We were expecting around 35 participants. When chairs were finally being occupied, there were only 21 participants. Afternoon session was dedicated to the participants -- 'Understanding the Trainers Role in the Struggle'.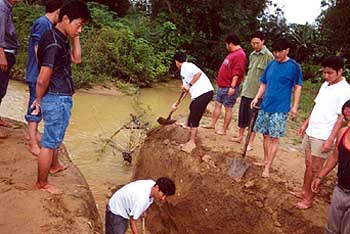 Changing the course of the river

It is 2pm and some participants have still not returned from lunch. So we had to wait for others. This session quickly ended as there were not many responses from the participants. After the tea break, the next session was for planning the coming six days, daily routine and even the physical exercise. Trainers, participants, Karma Singey la and Pema Rinchen, Old Homes in-charge visited both the sites where we decided to do the work -- One to create the 'Martyr Pillar' and the other to divert a stream which overflows during the rainy season which results in a flood inside the Old Homes. The Old Homes at Miao accommodates about 20 old Tibetans. Day one ended with these preparations for the days to come.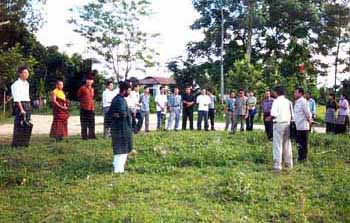 Selecting the site for the 'Martyr Pillar'


DAY 1 | DAY 2 | DAY 3 | DAY 4 | DAY 5 | DAY 6 | DAY 7
---
List of Participants (Miao): Rapten Tsering, Kuku Lhamo, Choephel, Tenzin Wangchuk, Tenzin Choephel, Tsultrim Dorjee, Sangye Dorjee, Dolma Tsering, Jampa Tashi, Thupten Tsering, Tenzin Rinchen, Tenzin Tendar, Ugyen Tashi, Tenzin Lhahgoe, Tempa Tashi, Tenzin Youdon, Norbu Tsering, Sonam Tsomo, Tenzin Pema, Sangye Wangmo and Pema Rinchen.