'Non-Violent Action For Tibet' Workshop
(Miao, Arunachal Pradesh | May 18-24, 2002)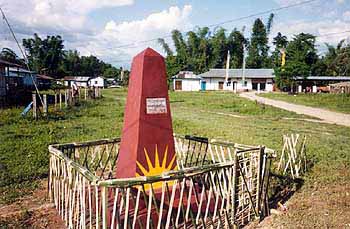 Martyr Pillar ready to be inaugurated

Day Seven (Friday. May 24, 2002): Today's morning session was dedicated for a discussion based on 'Hind Swaraj' or 'Indian Home Rule', a book by Mahatma Gandhi which sparked off the Indian Nationalist Movement. There were many questions and remarks.

This was followed by a discussion on the issue 'Return To Tibet To Resolve The Issue,' based on Hortsang Jigme's talk during the 'Heart-Of-The-Matter'. Besides their participation, TT Karma Choephel la's proposal similar to Hortsang Jigme's, but different in method and strategy, was much appreciated by the participants.

The third session after the tea break was the last session for a discussion -- 'Self Analysis And Future Plans.' It was encouraging to see how the participants would take up responsibilities from the next day.

The afternoon session kept for the 'drama practice' and the second one for the presentation by two groups. But many actors were missing. So they decided to compose a fresh play and presented the drama in the next one hour. The play came out well. The missing had gone to prepare for the evening party arranged by the settlement.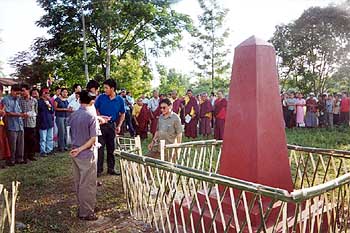 Inauguration by the Karma Singey la

The 'Martyr Pillar' is ready to be inaugurated. Around 400 people from the settlement gathered around the pillar. Many were seeing it for the first time. Monks from the settlement monastery did the 'pujas' before being inaugurated by Karma Singey la, the Miao settlement officer at 5pm. TT Karma Choephel la and Karma Yeshi la spoke to the people.

Self Analysis And Future Plans

Dolma Tsering: I woud like to thank all of you for spending one week with us. As Karma Choephel la talked about the urgent need for action in Tibet, I request you to propose this to the Tibetan assembly. We wouldn't wait for the hope from other nations' help. We must do our work even if our exile government does not care about your idea of returning to Tibet, I request you to lead us. I am deeply moved by your idea of returning.'

Norbu Tsering: 'We will plan and work to make a difference. We will see how we can continue this process. We will keep you informed about our progress. This is our pledge.'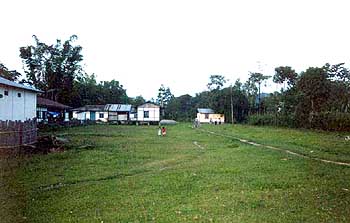 And it's time for us to leave Miao settlement


DAY 1 | DAY 2 | DAY 3 | DAY 4 | DAY 5 | DAY 6 | DAY 7
---
List of Participants (Miao): Rapten Tsering, Kuku Lhamo, Choephel, Tenzin Wangchuk, Tenzin Choephel, Tsultrim Dorjee, Sangye Dorjee, Dolma Tsering, Jampa Tashi, Thupten Tsering, Tenzin Rinchen, Tenzin Tendar, Ugyen Tashi, Tenzin Lhahgoe, Tempa Tashi, Tenzin Youdon, Norbu Tsering, Sonam Tsomo, Tenzin Pema, Sangye Wangmo and Pema Rinchen.