'Non-Violent Action For Tibet' Workshop
(Miao, Arunachal Pradesh | May 18-24, 2002)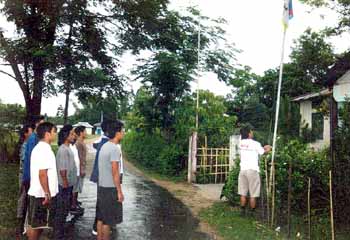 Hoisting the flag of a country they are denied of

Day Two (Sunday. May 19, 2002): It was raining in the morning. Sun was nowhere to be seen. But at 5.30am, the trainees were ready for the physical training session. All of them were boys. Girls came late. Few trainees were given exceptions not to attend. Today's session began with hoisting the Tibetan National Flag and singing the national anthem. Training began with group jogging for about 20 minutes followed by a general exercise under Sangye Norbu la, a former Special Frontier Force (SFF) soldier. The sesson ended up with singing the uprising song and folding the national flag.

The first session began exactly at 9am with all those who had come on time. Others joined later. Today, Karma Yeshi la spoke on 'Activism In The Freedom Struggle,' giving examples from different activities that had been organised upto now. He analysed how individuals in exile can take part in non-violent struggle for Tibet. The talk was followed by a question and answer session. There were some questions, remarks and concerns.

One suggestion from the participants was that their activities though reported to Tibetan media, never appeared in the news papers. Karma Yeshi la said this will be taken to the concerned publishers.

Some participants went to see the work at the pillar and the place near the Old Homes.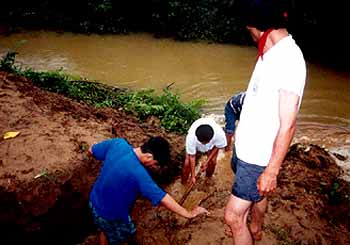 Work continues near the Old Homes


DAY 1 | DAY 2 | DAY 3 | DAY 4 | DAY 5 | DAY 6 | DAY 7
---
List of Participants (Miao): Rapten Tsering, Kuku Lhamo, Choephel, Tenzin Wangchuk, Tenzin Choephel, Tsultrim Dorjee, Sangye Dorjee, Dolma Tsering, Jampa Tashi, Thupten Tsering, Tenzin Rinchen, Tenzin Tendar, Ugyen Tashi, Tenzin Lhahgoe, Tempa Tashi, Tenzin Youdon, Norbu Tsering, Sonam Tsomo, Tenzin Pema, Sangye Wangmo and Pema Rinchen.