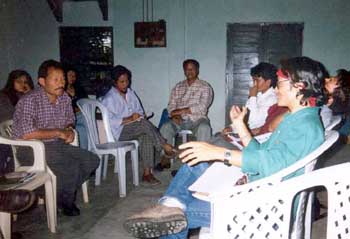 Tenzin Tsundue on 'An Activist's Insights'

Day Three (Monday. May 20, 2002): The morning physical training was followed by a volley ball match between two teams. The whole group was divided into two. We enjoyed the game.

Today was celebrated as the 360th year of the founding of the Tibetan government by the the 5th Dalai Lama of Tibet. Though the date actually falls on May 17, the notice to the settlement by the Kashag reached one day late. So it was celebrated today. The programme took away with it a large chunk of our workshop time. The function was followed by a long prayer session at the settlement monastery.

We planned to meet after the function but the whole team was not there. So we had to postpone it for the afternoon session. The heavy rain was drumming the tin roof of the auditorium.

We screened Hortsang Jigme's talk ''Return To Tibet To Resolve The Issue',' the third 'Heart-Of-The-Matter' Friends of Tibet (INDIA) organised in Dharamshala recently. Based on the topic, the group was divided into two and a debate was held.

Later we screened the first part of the documentary by Steve York, ''A Force More Powerful: A Century Of Non-Violent Conflict'. The film explains six non-violent movements of the last century starting from the Indian Independence movement led by Mahatma Gandhi. A discussion on the film will take place tomorrow.

Responses on the documentary 'A Force More Powerful'

Dolma Tsering: 'Taking the non-violent resistance of Denmark against the German occupation of their country in 1940, the sabotage of non-violent nature can be practiced in Tibet too'.

Norbu Tsering: 'Need for early action for Tibet. Wasted enough time from 1959. Did not go to school because my parents said we are returning home soon. I am in the late 50s and I cannnot wait like waiting for the rain. If our leaders can lead, we'll not fail them'.

Sonam Tsomo: 'Return the Registration Certificate (RC) to the Indian Government with gratitude. Then we'll return to Tibet to fight for Rangzen, nothing less than that'.

Sangye Norbu: 'Violence as a means in the freedom struggle can be useful. But seeing our situation of unpreparedness, we need to use it with care. In India, many Tibetan soldiers died fighting the Pakistan militants. It is worth it, but more so if it had been for Tibet'.

Dolma Tsering: 'You trainers have come here with a big reason. I feel proud of being engaged in the seven-day-long workshop'.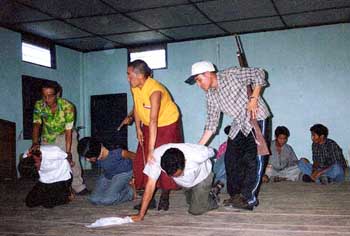 Drama As A Means Of Expression


DAY 1 | DAY 2 | DAY 3 | DAY 4 | DAY 5 | DAY 6 | DAY 7
---
List of Participants (Miao): Rapten Tsering, Kuku Lhamo, Choephel, Tenzin Wangchuk, Tenzin Choephel, Tsultrim Dorjee, Sangye Dorjee, Dolma Tsering, Jampa Tashi, Thupten Tsering, Tenzin Rinchen, Tenzin Tendar, Ugyen Tashi, Tenzin Lhahgoe, Tempa Tashi, Tenzin Youdon, Norbu Tsering, Sonam Tsomo, Tenzin Pema, Sangye Wangmo and Pema Rinchen.