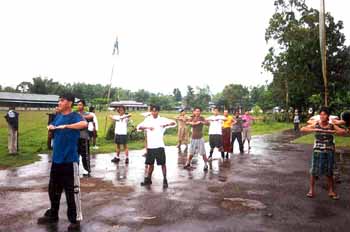 5.30am: Not a usual scene for the people at Miao

Day Four (Tuesday. May 21, 2002): The morning exercise went on well as usual. Today's first talk and discussion was by Sethu Das and his topic was 'An Outsider's Point of View'. His talk was translated by me as he went on speaking. He spoke on the weaknesses and drawbacks of the Tibetan freedom movement in exile rather than achievements.

He did not wait for a question and answer session. Instead, he gave a questionnaire and asked them to fill up. Then he formed four groups and made them discuss and solve a situation he created. The situation was that we all had to presume that the Miao settlement had been taken over by the PLA. The Tibetan school has been taken over where the first language is Chinese, monastery is under their control and the abbot is being exiled. Offices, dispensary and the handicraft centre and all other pockets of the settlements have been taken over by the Chinese army. "We now have to strategise and plan how to throw the Chinese out to reclaim the settlement and bring back the settlement officer who is in exile" he said. The group's response came out well with different strategies.

In the afternoon, the second part of the film 'A Force More Powerful: A Century Of Non-Violent Conflict' was a screened followed by a discussion on the first part of the documentary.

'Work Session' was spent making the channel at the Old Homes. The work was almost completed by the workshop team and we almost changed the course of the stream. The last session at 3pm was 'Drama As A Means Of Expression'. Two groups worked on making their own play about Tibet's struggle. The presentation will be done on the next day.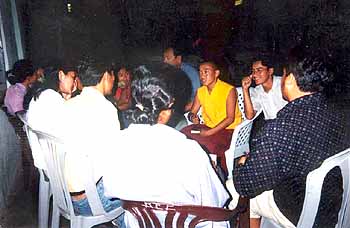 A discussion based on Hortsang Jigme's talk


DAY 1 | DAY 2 | DAY 3 | DAY 4 | DAY 5 | DAY 6 | DAY 7
---
List of Participants (Miao): Rapten Tsering, Kuku Lhamo, Choephel, Tenzin Wangchuk, Tenzin Choephel, Tsultrim Dorjee, Sangye Dorjee, Dolma Tsering, Jampa Tashi, Thupten Tsering, Tenzin Rinchen, Tenzin Tendar, Ugyen Tashi, Tenzin Lhahgoe, Tempa Tashi, Tenzin Youdon, Norbu Tsering, Sonam Tsomo, Tenzin Pema, Sangye Wangmo and Pema Rinchen.