'Non-Violent Action For Tibet' Workshop
(Miao, Arunachal Pradesh | May 18-24, 2002)


'Martyr Pillar' receives the final touches

Day Six (Thursday. May 23, 2002): The morning physical training session went on well with most of the participants. Today all of them had come on time. We sang the Tibetan National Anthem and saluted the National Flag. And the training continues for more than an hour under the leadership of two trainers.

In the morning session Karma Yeshi la spoke on 'Organising Non-Violent Actions'. He spoke on a variety of methods and tactics which could be tried by the Tibetans living in exile. He illustrated many points through the experiences during his involvement with the activities of the Tibetan Youth Congress in India and abroad. The talk was followed by a question and answer session.

The next session was given to the participants to plan various non-violent action and present it group-wise. There were four groups to present their strategies. The results were amazing. Many praised the film 'The Force More Powerful: A Century of Non-Violent Conflicts' for inspiring them.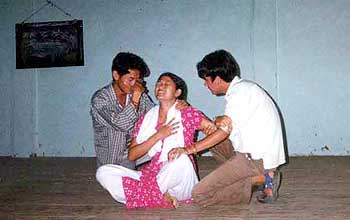 A scene from the drama


DAY 1 | DAY 2 | DAY 3 | DAY 4 | DAY 5 | DAY 6 | DAY 7
---
List of Participants (Miao): Rapten Tsering, Kuku Lhamo, Choephel, Tenzin Wangchuk, Tenzin Choephel, Tsultrim Dorjee, Sangye Dorjee, Dolma Tsering, Jampa Tashi, Thupten Tsering, Tenzin Rinchen, Tenzin Tendar, Ugyen Tashi, Tenzin Lhahgoe, Tempa Tashi, Tenzin Youdon, Norbu Tsering, Sonam Tsomo, Tenzin Pema, Sangye Wangmo and Pema Rinchen.