'Non-Violent Action For Tibet' Workshop (3)
(Miao, Arunachal Pradesh | May 18-24, 2002)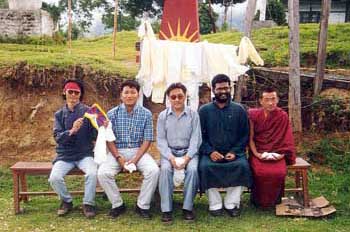 Trainors: Tenzin Tsundue, Karma Yeshi, TT Karma Choephel, Sethu Das and Tenzin Tsedup

"The great gift of freedom can never come to a people through charity.
We must win it before we can own it"
Rabindranath Tagore (1919)

. . . . . . . . . . . . .

Based on the feedback we received from the participants and the resource persons of the 'Non-Violence & Social Action' workshop Friends of Tibet (INDIA) organised in Dharamshala and Dehradun last year, the members of the organisation and its advisors spent the first day of the new year planning a series of workshops on 'Non-Violent Action' at various Tibetan settlements in India, Nepal and Bhutan.

And we decided to conduct seven workshops in some of the poorest and remote Tibetan settlements in three NE states of India -- Arunachal Pradesh, West Bengal and Sikkim. TT Karma Choephel (Member, ATPD) and Karma Yeshi (Former Vice-President, Tibetan Youth Congress) led the 64-day-long workshop on 'Non-Violent Action For Tibet' which started off from Miao Choephelling Settlement in Arunachal Pradesh on May 18, 2002. Sethu Das (President, Friends of Tibet INDIA), Tenzin Tsundue (Gen Secretary, Friends of Tibet INDIA) and Tenzin Tsedup (Former Political Prisoner) were also the trainers for the one of the longest workshops initiated by the Friends of Tibet INDIA.

Crossing One Of The Rivers To Reach Tezu

Travelling across Arunachal Pradesh, one of the largest and remotest states in India was extremely difficult. The state has no air services and or railways. India's one of the extremely politically sensitive region has a 2,000 km long border with Tibet and Bhutan. One has to cross six rivers, walk, travel atleast five hours by road and finally a 'safari' on an elephant to reach settlements like Tezu.

As we went ahead, the numbers grew and this became the first Friends of Tibet (INDIA) programme to be funded entirely by the Tibetans living in exile. Participants to government officials to local Tibetans came forward with cash donations, rice, grains and other materials required for the completion and the continuation of the workshop process. A detailed list of donors is being added to the existing list at http://www.friendsoftibet.org/donors. Members of the Friends of Tibet (INDIA) and its advisors thank all those who made the workshop on 'Non-Violent Action For Tibet' a reality.

Photographs and an interesting day-to-day report on seven workshops by Tenzin Tsundue can be read at:


DAY 1 | DAY 2 | DAY 3 | DAY 4 | DAY 5 | DAY 6 | DAY 7

Workshop Theme: Throughout history, exceptional people in many countries have used non-violent action as a means of bringing about desired social and political change. In modern times, Mahatma Gandhi once again brought it into prominence by leading the people of India to freedom through non-violent action against the then most powerful nation on earth. This fact alone should be enough to dispel any lingering doubts that non-violence cannot work against strong military powers like China. Non-violence is a weapons system in its own right and there should be no doubts about this. However, as with conventional weapons systems, non-violent action also requires systematic training and, in fact, calls for more inner strength, courage and perseverance.

When we take an objective look at the Tibetan struggle today, there are certain realities which we must all agree. First of all, the Chinese are not going to walk away from Tibet because we tell them to. At the same time no other country will sacrifice their self-interest for the sake of Tibet. Even those who support the right of the Tibetan people to freedom can do very little until the Tibetans lead them into action. In short, without first making it absolutely clear what it is that the Tibetan people want and without consistent and continuous action on the part of the Tibetan people, we cannot hope to change the situation inside Tibet. At the moment, however, all is not yet lost. There is still hope for Tibet to be free and independent again.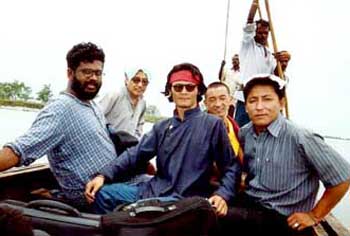 Workshop Trainers: Moving From One Place To Another

Speeches / Presentations:
| 'Mapping The Tibetan Freedom Struggle' by TT Karma Choephel | 'Activism In Tibetan Freedom Struggle In India' by Karma Yeshi | 'An Outsider's Point Of View' by Sethu Das | 'An Activist's Insights' by Tenzin Tsundue | 'Freedom Struggle Inside Tibet' by Tenzin Tsedup |

---
List of Participants (Miao): Rapten Tsering, Kuku Lhamo, Choephel, Tenzin Wangchuk, Tenzin Choephel, Tsultrim Dorjee, Sangye Dorjee, Dolma Tsering, Jampa Tashi, Thupten Tsering, Tenzin Rinchen, Tenzin Tendar, Ugyen Tashi, Tenzin Lhahgoe, Tempa Tashi, Tenzin Youdon, Norbu Tsering, Sonam Tsomo, Tenzin Pema, Sangye Wangmo and Pema Rinchen.