'Non-Violent Action For Tibet' Workshop
(June 6-11, 2002. Tenzin Gang, Arunachal Pradesh)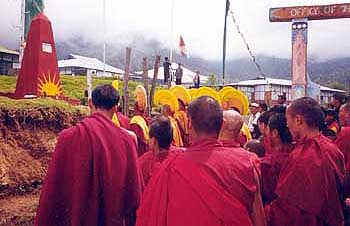 Monks from the Gyuato Tantric University bless the 'Martyr Pillar'

Day Six (Tuesday. June 11, 2002): The physical training was held with more people this time and on time.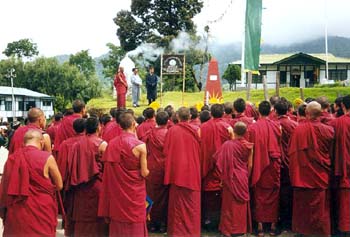 TT Karma Choephel la addressing the gathering

With the inauguration of the 'Martyr Pillar,' the fifth workshop on 'Non-Violent Action For Tibet' will come to an end at the Tenzin Gang Tibtean settlement. This is also the conclusion ceremony.

Inauguration by the settlement officer Tamdinla

By 10 am, all the workshop participants, trainers, settlement officer and more than 200 monks from the Gyuato Tantrik University assembled in front of the pillar. We all sang the Tibetan National Anthem and the Upsring Song. Tamdin la, the Tenzin Gang settlement officer inaugurated the 'Martyr Pillar' in the traditional way of lighting a lamp. Monks did a ceremonial puja, TT Karma Choephel la and Karma Yeshi la addressed the gathering. People offered 'Khatas' at the pillar and observed a symbolic 'two-minute silence' for the memory of all those who gave their life for Tibet. For many, it was more than a pillar.

And it was time for us to leave the Tenzin Gang settlement. On the way we are planning to stop at Bomdila, to address a gathering of local Tibetans.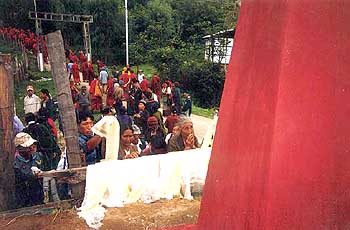 For many, it was more than a pillar

We left the settlement the next day morning. Many participants and the villagers had some to say 'good bye' and 'good wishes'. We continued our journey to Tenzin Gang the last Tibetan settlement in Arunachal Pradesh for the next workshop.


DAY 1 | DAY 2 | DAY 3 | DAY 4 | DAY 5 | DAY 6
---
List of Participants (Tenzin Gang): Thupten Sherab, Kunchok Phuntsok, Thupten Gandhum, Ngawang Rinchen, Dhondup Tsering, Tenzin Norbu, Tashi Gyatso, Yeshi Dhondup, Sonam Dekyi, Tsering Dolkar, Tenzin Nyima, Tsering Phuntsok, Tenzin Dakpa, Ngawang Tsering, Rinzin Choedhak, Dechen Wangmo, G Wangmo, Choesom Dolma, Kalsang Wangmo, Jampal Wangmo, Kunchok Tsomo, Tsering Youdon and Jampa Phuntsok.