'Non-Violent Action For Tibet' Workshop
(June 6-11, 2002. Tenzin Gang, Arunachal Pradesh)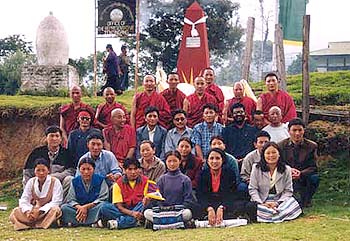 Participants and Trainees in front of the Martyr Pillar

Day One (Thursday. June 6, 2002): Day one began with a small gathering of participants in front of the settlement office at Tenzin Gang, Arunachal Pradesh. The trainees came one by one and later grew to 26. At 5.30 in the morning, the Tibetan national flag was hoisted and the trainees and trainers took part in the physical training under Sonam Dorjee la, a former soldier with the Special Frontier Force (SFF) of the Indian Army.

There were about eight monks from the Gyuato Tantric University as trainees and they were told that the physical training is not compulsory. There were many girls too. From the next day, we would go for jogging.

The inauguration was held at the community hall next to the settlement office at 9am. Tenzin Gang settlement officer Tamdin la welcomed the trainors and Karma Yeshi la introduced the workshop theme and the trainers.

Karma Choephel la on 'Mapping The Tibetan Freedom Struggle'

The session started with TT Karma Choephel la's talk on 'Mapping The Tibetan Freedom Struggle' followed by a question and answer session. Reading materials were distributed -- 'Workshop Theme', 'Hind Swaraj or Indian Home Rule' by Mahatma Gandhi, Rangzen Band, National Anthem and Uprising Song and Dr Gene Sharp's '198 Methods of Non-Violent Protests & Persuation'. Each material was introduced to the trainees.

Afternoon session was used for discussing 'Individual's Role In The Freedom Struggle'. We shifted from the hall to a tent outside. The session got over soon and we started working on the 'Martyr Pillar'. A small group of girls went for collecting sand and bricks from the compound. It was from the participant's suggestion that we changed the pillar from a place near the gate to a higher place in the office compound.

At 5pm, the film 'Gandhi' (Dir: Richard Attenborough) was screened. A discussion on the film will happen tomorrow.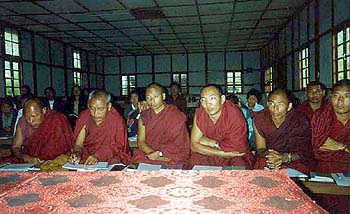 Monks from the Gyuato Tantric University


DAY 1 | DAY 2 | DAY 3 | DAY 4 | DAY 5 | DAY 6
---
List of Participants (Tenzin Gang): Thupten Sherab, Kunchok Phuntsok, Thupten Gandhum, Ngawang Rinchen, Dhondup Tsering, Tenzin Norbu, Tashi Gyatso, Yeshi Dhondup, Sonam Dekyi, Tsering Dolkar, Tenzin Nyima, Tsering Phuntsok, Tenzin Dakpa, Ngawang Tsering, Rinzin Choedhak, Dechen Wangmo, G Wangmo, Choesom Dolma, Kalsang Wangmo, Jampal Wangmo, Kunchok Tsomo, Tsering Youdon and Jampa Phuntsok.