'Non-Violent Action For Tibet' Workshop
(June 6-11, 2002. Tenzin Gang, Arunachal Pradesh)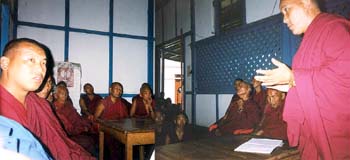 Day of the Participants: Thupten Sherab speaks to his monastery

Day Three (Saturday. June 8, 2002): Today's talk was mine. It went as scheduled followed by a question and answer session. We did a discussion on the film 'Gandhi'. The next session was used to screen 'A Force More Powerful: A Century of Non-Violent Conflict' (Dir: Steve York) a documentary on six struggles based on non-violence, including the Indian Independence struggle.

Hortsang Jigme's talk on 'Return To Tibet To Resolve The Issue' invited lot of questions and concerns. The debate continued till tea break. Many did not agree with the idea of returning to Tibet led by His Holiness the Dalai Lama. Discussion continued even after the tea break.

During tea, someone came with an invitation from the Regional Tibetan Youth Congress for dinner for all participants and trainers. Dinner happened at 8pm and was attended by all the camp leaders, heads of various organisations, teachers from the Central School for Tibetans and us.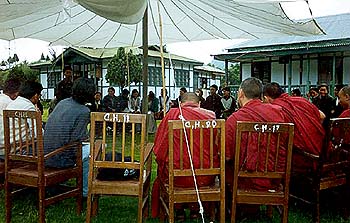 Discussing 'Self Analysis And Future Plans'


DAY 1 | DAY 2 | DAY 3 | DAY 4 | DAY 5 | DAY 6
---
List of Participants (Tenzin Gang): Thupten Sherab, Kunchok Phuntsok, Thupten Gandhum, Ngawang Rinchen, Dhondup Tsering, Tenzin Norbu, Tashi Gyatso, Yeshi Dhondup, Sonam Dekyi, Tsering Dolkar, Tenzin Nyima, Tsering Phuntsok, Tenzin Dakpa, Ngawang Tsering, Rinzin Choedhak, Dechen Wangmo, G Wangmo, Choesom Dolma, Kalsang Wangmo, Jampal Wangmo, Kunchok Tsomo, Tsering Youdon and Jampa Phuntsok.