'Non-Violent Action For Tibet' Workshop
(June 6-11, 2002. Tenzin Gang, Arunachal Pradesh)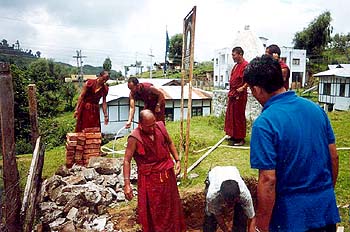 Work for the Martyr Pillar continues

Day Four (Sunday. June 9, 2002): This morning's gathering for physical training saw less participants.

Morning session's talk was by Sethu Das. His talk on 'An Outsider's Point of View' provoked many questions and remarks. The exchange of words got extended into the tea break too. During the break, a heated discussion went on about the 'boycott of Chinese goods' in the settlement. After the tea session, there was a talk by TT Karma Choephel la. He spoke on the present state of Tibetan freedom struggle and a clarification based on the talk by Sethu Das. He said 'it is not true that the Tibetan freedom movement is 'hijacked' by the sponsors and millionaires'.

Then there was a discussion based on the film 'A Force More Powerful'. The film seems to have worked with the participants as they came out with many different strategies and methods to continue their struggle. Many praised the way the people of Denmark non-violently resisted the German invasion of their country in 1940.

In the afternoon, Group A and B presented their dramas, which was attended by the settlement officer and many other officials and workers from the nearby hand-made paper factory. Group A presented a drama for 30 minutes where at the end of the drama Tibet becomes an independent country. The Chinese flag was lowered and the Tibetan anthem was sung; the flag was hoisted. Group B's drama was based on the '17-Point Agreement'. For many specially the monks from the Gyuato Tantric University were acting for the first time. Many were not comfortable with wearing a PLA uniform and beating a Tibetan in their custody.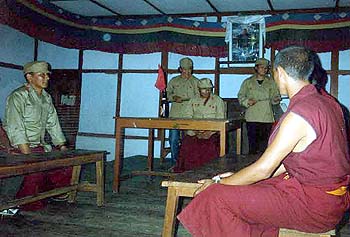 A scene from the drama presented by Group A


DAY 1 | DAY 2 | DAY 3 | DAY 4 | DAY 5 | DAY 6
---
List of Participants (Tenzin Gang): Thupten Sherab, Kunchok Phuntsok, Thupten Gandhum, Ngawang Rinchen, Dhondup Tsering, Tenzin Norbu, Tashi Gyatso, Yeshi Dhondup, Sonam Dekyi, Tsering Dolkar, Tenzin Nyima, Tsering Phuntsok, Tenzin Dakpa, Ngawang Tsering, Rinzin Choedhak, Dechen Wangmo, G Wangmo, Choesom Dolma, Kalsang Wangmo, Jampal Wangmo, Kunchok Tsomo, Tsering Youdon and Jampa Phuntsok.