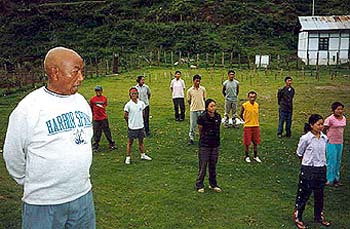 Training according to Sonam Dorjee la

Day Two (Friday. June 7, 2002): We assembled at 5.30am at the ground. Physical training started on time without the monks. There were many trainings and some were very difficult.

Three participants took leave from the workshop on the basis that they are uneducated and they do not understand many things in the workshop. Their dialect was different and they were participating in a workshop for the first time.

The first session was a talk by Karma Yeshi la and the topic was 'Activism In Exile'. During the talk, the mason had come and he was asked to look for an iron bar for the pillar skeleton and some wooden planks.

After tea, all of us started working for the 'Martyr Pillar'. Some worked on the base while some went for collecting sand, pebble and cement. By lunch, the base of the pillar should be ready. Weather is bad, it was driizzling and we need more time for the cement to dry before colouring it.

After lunch session was used to explain 'Drama As A Means Of Expression'. Two groups were formed and they started working on the script. 'Work Session' began after tea. A good amount of sand and pebble was collected, mixed and later filled inside the wooden frame. Within minutes, the pillar was ready to stand its own and the ground was cleared. There are some changes in today's schedule as the 'Work Session' went beyond 5.30pm. So the idea was left behind for the next day.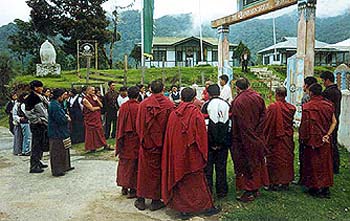 'Martyr Pillar' is one thing that united the people


DAY 1 | DAY 2 | DAY 3 | DAY 4 | DAY 5 | DAY 6
---
List of Participants (Tenzin Gang): Thupten Sherab, Kunchok Phuntsok, Thupten Gandhum, Ngawang Rinchen, Dhondup Tsering, Tenzin Norbu, Tashi Gyatso, Yeshi Dhondup, Sonam Dekyi, Tsering Dolkar, Tenzin Nyima, Tsering Phuntsok, Tenzin Dakpa, Ngawang Tsering, Rinzin Choedhak, Dechen Wangmo, G Wangmo, Choesom Dolma, Kalsang Wangmo, Jampal Wangmo, Kunchok Tsomo, Tsering Youdon and Jampa Phuntsok.