'Festival of Tibet 2000,' a six-day long event organised by Friends of Tibet (INDIA) and Tibetan Youth Congress was inaugurated by His Holiness the XIV Dalai Lama in Bombay on March 12, 2000 at 4pm. After an introduction by Sanjana Kapoor, industrialist Mukesh Ambani welcomed the Dalai Lama, describing him as "a great philosopher and teacher, the epitome of peace and goodwill...a messenger of Lord Buddha's message of peace." He also said the city of Bombay is blessed to have him here.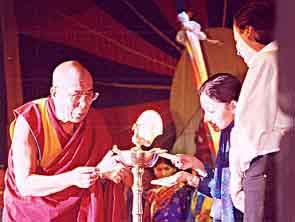 Inauguration: HH Dalai Lama Inaugurating the Festival. Reshma Piramal(Vice-president, Friends of Tibet INDIA) and Mukesh Ambani standing next to him.
On his 90-minute speech on 'Ethics For The New Millennium', Dalai Lama made a strong appeal to the world to practice compassion if they wanted to be happy and at peace with themselves. Speaking in English with occasional help from his Tibetan translator, Dalai Lama said 'India is our Guru and we Tibetans are from a small land as disciples' and described Tibet's relationship with India as 'close' and 'something very special and unique' and thanked Indian citizens and the Government for preserving Tibetan culture while a cultural genocide is taking place in Tibet. The spiritual and temporal leader of Tibet and the winner of Nobel Peace Prize, Tenzin Gyatso, the XIV Dalai Lama said that it is important to realise that we all have the same potential of good and bad. Therefore, it is important to use the good potential to be a happier human being. If you have negative potential, you should be clear of the consequence of your actions. 'I believe that Tibetan spirituality and its unique cultural heritage is based on compassion and peace and therefore we can say that Tibetan culture is the culture of peace. He further stated that because of the influence of Buddhism, there is much emphasis on altruism in Tibetan culture' though there were different philosophies and religions, they proclaimed the same principles of love, peace, compassion, forgiveness and contentment.
Later, Dalai Lama released a book called 'Breaking Silence: In Support of Tibet' published jointly by Friends of Tibet (INDIA) and Tibetan Youth Congress.

'Cham,' dance by the monks from Zongkar Choedhe Monastery and students from the SOS Tibetan Children's Village welcomed HH Dalai Lama at YB Chavan Auditorium and Prince of Wales Museum of Western India, two important venues of the six-day long event. Celebrated at five different venues in Bombay with more than 150 participants from all over the world, 'Festival of Tibet 2000' covered a gamut of activities — from films, music, dance, food, photo exhibitions and seminars.

The second and third day of the festival was dedicated to documentary, animation and feature films made on different aspects of Tibet. 'The Cup' was presented by Mahesh Bhatt, 'Kundun' and 'Tintin In Tibet' by Tulku Jamyang Kunga Tenzin, 'The Tibetan Book of the Dead' by Acharya Nyima Tsering and 'Shadow Circus: CIA in Tibet' by Ritu Sarin and Tenzing Sonam, followed by a question-answer session. 'Dances From The Roof of The World', a package of 21 traditional dances and songs from different regions of Tibet were presented by the students from Tibetan Children's Village and monks from Zongkar Choedhe Monastery.


A photo-exhibition titled 'Five Candles' was held at the Prince of Wales Museum of Western India. The five exhibitions were 'Free Spirits' by Diane Barker, 'Inside Tibet' by Jacqueline Meier, 'Holy Holy' by Suresh Natarajan, 'Beyond Shangri-La' by Lobsang Wangyal and 'Tibet Reborn' by Vijay Kranti.


This unique festival had something to offer to everyone. For music lovers flute maestro Nawang Kechog performed in a first-time ever collaboration with sarangi maestro Ustad Sultan Khan in 'Melting Boundaries'. enerable Geshe Damdul Namgyal of Drepung Loseling Monastery gave a five-day teachings on Buddhism and meditation. There were interactive sessions and lectures by religious and political leaders which included 'A Brief Explanation of Buddhist Philosophy' by Acharya Nyima Tsering; 'Nuclearisation of Tibet and Its Impact on the Region' by R Subramanium (Institute of Defence Studies and Analysis, New Delhi); 'Grassroot Activism' by John Hocevar (Director, Students For A Free Tibet); 'Pulse Diagnosis in Tibetan Medicine' by Dr Kangyur (Personal physician of HH Dalai Lama); 'India's Tibet: A Case to Review' by Lhasang Tsering (Former President, TYC), and 'Tibet: The Chinese Gulag' by Venerable Yeshe Togden (President, Gu-Chu-Sum Movement of Tibet).


The focus of the last day of the festival was 'Re-Working The World: Buddhism and The Present', a day-long seminar led by Prof Samdhong Rinpoche, Prof Prabodh Parikh and Ranjit Hoskote, and a public meeting on Tibet. The seminar was attended by scholars and intellectuals from all over the world including Dr Sulak Sivaraksa, Lokmitra, MP Rege, Acharya Nyima, Anand Wood, Dilip Chitre, Sudhir Patwardhan, Prof Kulkarni, Adil Jussawala and many other scholars and activists from all over the world.


Public Meeting: (L to R) Sethu Das (President, Friends of Tibet INDIA); John Hocevar (Director, SFT); Lhasang Tsering (Former President, TYC); Sulak Sivaraksa (Social Activist); Prof Samdhong Rinpoche (Chairman, Assembly of Tibetan People's Deputies); ProfPrabodh Parikh (Dept of Religion, Bombay University); Ranjit Hoskote (Poet & Columnist); R Subramanium (Institute of Defence Studies & Analysis, New Delhi); Tseten Norbu (President, TYC)
Other attractions of the festival were the four hundred year old tradition of the 'Butter Sculpture Making' by the Gyumed Tantric University; Poetry Reading by Tenzin Tsundue; exhibition and sale of 'Handicrafts' by Charitable Trust of HH Dalai Lama; 'Books' and Audio by Paljor Publications, Marg and Chetana; 'Thangka' (scroll) painting, 'Wood Carving', 'Carpet Weaving' by the Norbulingka Institute, free medical consultation and 'Pulse Diagnosis' by Men-Tsee-Khang and a 'Tibet Kitchen' to serve momos and butter tea.

A Ritual destruction of the 'Kalachakra Mind Mandala' constructed by the monks from the Namgyal Monastery marked the end of a six-day long successful 'Festival of Tibet 2000' on March 17, 2000. The festival will travel across the country.