"One can imagine entering Mandala through one of the outer doors at the first level, that of the body mandala, walking in through the outer walls, which are transparent and in five layers and coloured, from outside to inside, yellow white, red, black and green. You walk further in and climb up the steps to the second level, the 'speech mandala,' also surrounded by five transparent coloured walls; up another set of steps to the third level, the 'mind mandala', surrounded by three transparent coloured walls."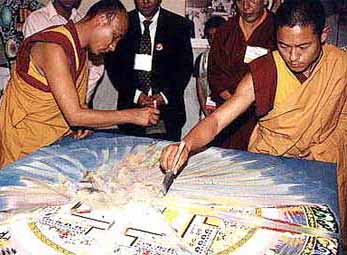 Monks ritually destroy the 'Kalachakra Mandala'

"You can see inside the mind mandala a square platform, the fourth level, the 'pristine consciousness mandala'. On this platform is another platform, the fifth level, the 'great bliss mandala'. On this is the green eight-petalled lotus on which Kalachakra stands. A representation of this mandala is used by a practitioner of the Kalachakra Tantra for the purpose of visualising in meditation."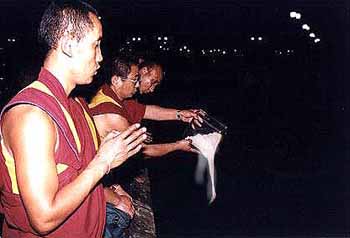 Monks pour the remains of the 'Kalachakra Mandala' into the sea on March 17, 2000

Click here to learn more about a 'Kalachakra Mandala'