Tibetan flutist Nawang Khechog performed for the first-time ever with the sarangi maestro Sultan Khan in 'Melting Boundaries', a music concert, part of the 'Festival of Tibet 2000' in Bombay.
Nawang Khechog: Born in Tibet, Nawang Khechog spent his earliest years as the child of nomads. In his boyhood he first learned to play the bamboo flute, an ancient instrument popular in rural villages throughout Tibet. After the brutal subjugation of Tibet by Chinese Communists in 1949, Nawang and his family escaped to India. There he studied meditation and Buddhist philosophy, a path he followed as a monk for eleven years -- four of them as hermit. In 1986, he emigrated to Australia where he first performed, and his albums achieved best-seller status. Nawang is best known for his collaboration with Kitaro, including a world performance on Kitaro's Grammy nominated 'Enchanted Evenings' and 'Mandala' albums.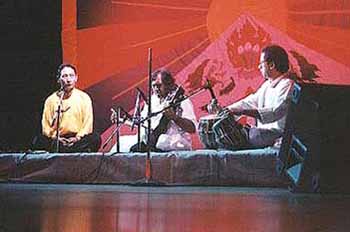 'Melting Boundaries': Nawang Kechog, Sultan Khan and Mahesh


His live performances with Philip Glass, Paul Winter, Laurie Anderson, Paul Simon, Natalie Merchant, and Baba Olatunji/Peter Kater have received international acclaim. In 1996, Nawang Khechog worked as assistant director and actor for the film 'Seven Years In Tibet'.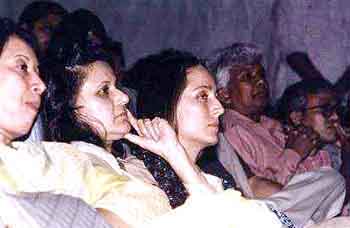 Sanjana Kapoor listens to the music

---
'Melting Boundaries' was organised in association with Banyan Tree Events Promotions Ltd., at the YB Chavan Centre on March 16, 2000