His Holiness the Dalai Lama also released a book called 'Breaking Silence: In Support of Tibet' published by Friends of Tibet (INDIA) and Tibetan Youth Congress. Starting with a message from the Dalai Lama, this 195-page book contains articles, poems, paintings, essays and cartoons by people who make a difference. Some of them are Adil Jussawala, Dawa Norbu, RK Laxman, Mario Miranda, Lhasang Tsering, Ranjit Hoskote, Dom Moraes, Rajmohan Gandhi, Meher Pestonji, Jetsun Pema, Vijay Kranti, Thubten Samphel, Atul Dodiya, Anju Dodiya, CP Surendran...

. . . . . . . . . . . . .

Sunday Observer on 'Breaking Silence'
Pastische is a word I dislike. There's too much uncertainity in it. But what else can focus the delight and anguish of a people? Such a celebration demands not only a multi-voiced narrative, but multiplicity of expression as well. This book, richly tapestried with poem, anecdote, essays and history, is like a small prayer rug in a stray patch of sunshine.

To open it is to invite contemplation. I read through it with a mixture of fear and shame, and the dread of losing what little liberty our own nation offers its citizens.

Of the book itself these remain with me; a mountainscape by Prabuddha Das Gupta, the Dalai Lama as seen by a very young, very callow Dom Moraes, the fearsome testimony of Jampa Phuntsok, the whiteness of Buchenwald in Dilip Chitre's poem A Whole Country Might Be Erased. But these are disparate images; what distance will fuse them into a nation? What does Tibet say to all these voices? It is the sound of the last line in Adil Jussawala's poem Kite: "Once I heard the ocean and the land was high"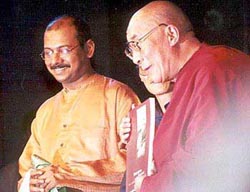 The Book
---
Priced at Rs 100, 'Breaking Silence: In Support of Tibet' is available at all leading book shops in Bombay.