Four hundred year old tradition of Butter Sculpture was demonstrated by Gyumed Tantric University during the 'Festival of Tibet 2000' in Bombay.
Choenga Choepa is the celebration of offerings on the fifteenth day of the last month of the Tibetan calendar. This is to mark the truimph of the Lord Buddha over his six non-Buddhist teachers who challenged him in performing miracles. The tradition started from the fourteenth century with Lama Tsongkhapa, the great Tibetan reformer.
On this day, huge butter sculptures are erected and mounds of 'khapse' are heaped up for offering. Later they are distributed to the monk and lay people. Back in Tibet, huge amount of butter is coloured and then sculpted. Since the climate is not suitable in India, the monks use ghee mixed with wax. It takes one whole month for six monks to complete a traditional butter sculpture. It is believed that by making such offerings we create a positive collective karma which overcomes epidemics, hunger, war and other negative effects ushring peace and harmony in the world.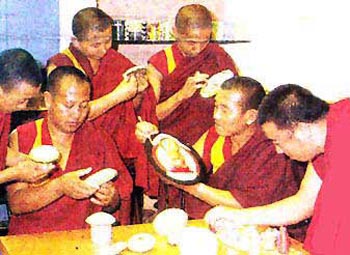 Gyumed Tantric University monks
---
Butter Scupture was prepared by Gyumed Tantric University monks at PIRamyD at Crossroads and YB Chavan Centre.