'Kundun' which means 'presence' is the story of Tenzin Gyatso, the fourteenth Dalai Lama of Tibet. Told through the young eyes of HH Dalai Lama, Kundun charts his extraordinary growth from a giggling child of two and a half years into a figure who raises the world's consciousness about the Buddhist society; of the plight of Tibet and the suffering endured by his people after the result of the Chinsese invasion of his country.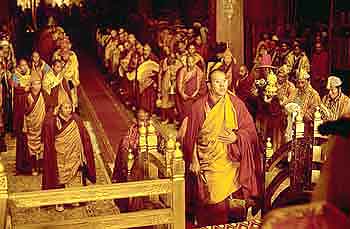 A still from 'Kundun'

Filmed in Morocco, 'Kundun' is a moving experience for everyone and viewers come away with a sense of sadness and loss for something glorious that has been interred in Tibet.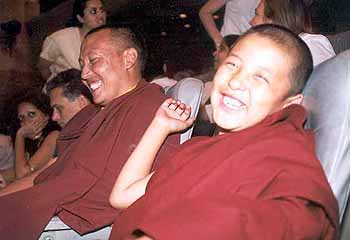 Jamyang Kunga enjoys the film with his guardian monk
---
'Kundun' was screened at the YB Chavan Centre on March 13, 2000