'Non-Violent Action For Tibet' Workshop
(Sept 20-26, 2002. Mainpat, Chattisgarh)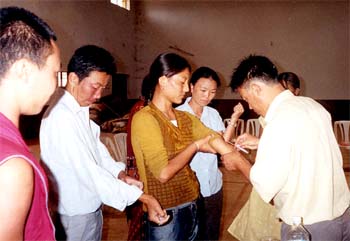 Participants And Trainers Donating Blood

Day 6 (Sept 25, 2002): This morning, Karma Yeshi la spoke about the Tibetan Government-in-Exile, its features and characteristics. His talk, 'Know Your Government' has always been proved very helpful for the participants. All of them were given a copy of a chart explaining government's various departments, financial bodies and other offices that come under the departments.

Today we spent much of our time on drama. After tea, there were drama rehearsals and in the afternoon two drama pieces were presented. It was interesting to note that both the plays were based on the inactivity of the people of the settlement in the freedom movement -- how in different ways people are divided for their self benefit.

During tea time the doctor from the settlement Health Centre and the nurse helped us to donate a little amount of blood to be mixed with red oxide for the 'Martyr Pillar.' The syringes were a donation from the Health Centre.

In the evening we discussed the film 'A Force More Powerful: A Century Of Non-Violent Conflict.' The responses to the film went into reflecting what we can do in the freedom struggle. We discussed the ban and the usage of Chinese goods and other activities. Later we screened the documentary on the abduction of the Panchen Lama recognised by HH the Dalai Lama -- 'Tibet's Stolen Child' (Dir: Gathwait & Griffin).

At 6 o' clock we sang the Uprising Song. There were quite a number of non-participants too standing with us and singing.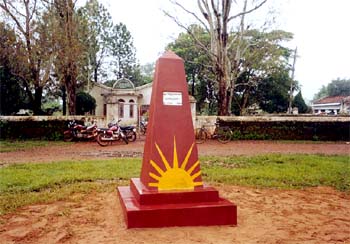 Martyr Pillar Ready To Be Inaugurated


DAY 1 | DAY 2 | DAY 3 | DAY 4 | DAY 5 | DAY 6 | DAY 7
---
List of Participants (Chattisgarh): Dawa Tsetan, Sonam, Migmar Tashi, Kalsang Youdon, Chemi Dolkar, Sonam Gyatsen, Tenzin Sherab, Jamphel, Tsering Dhondup, Tenzin Paldon, Tenzin Yangkyi, Sonam Dolma, Lobsang Samten, Tenzin Choklang, Kunga Tashi, Tenzin Tsering, Sonam, Tenzin Jangchup, Karma Gyurmey, Chime Yangzom, Thupten Choephel, Sonam Gyurmey, Choedon, Tashi Gyurmey, Tenzin Choegyal and Tenzin Pehka.