'Non-Violent Action For Tibet' Workshop
(Sept 20-26, 2002. Mainpat, Chattisgarh)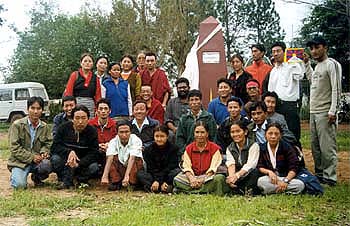 Workshop Team In Front Of the Martyr Pillar They Made

Day 1 (Sept 20, 2002): The first meeting was to happen exactly at 9am, but even at 9.30am many of the seats were empty. Some more came later and joined the meeting. We were 26 people including the trainers in the huge and spacious Community Hall of the Phendeling Tibetan Settlement, Chattisgarh.

The Settlement Officer Wangdu Tsering la presided as the chief guest. Karma Yeshi la introduced the workshop, its aims and the whole process of it from its beginning to the present stage. The Settlement Officer welcomed the workshop team to his settlement. He said 'such workshops can solve our issue once and for all, and we would be able to return to our homeland.' He requested everyone in the workshop to attend to it regularly so that they can in turn train the rest of the people in the settlement.

During the 'Introductions,' I learned that some of the participants were born in Tibet and later escaped to India in the 60s. They were children then. Youngsters didn't say much other than their names and the camps they came from. There were also who served in the Indian Army, for the first time we came across a Tibetan woman who served in the Army.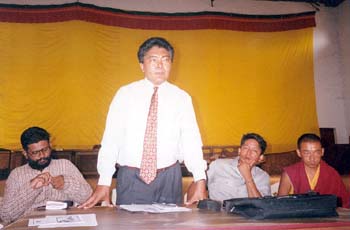 Wangdu Tsering la, Inaugurates The Workshop

After tea, Karma Yeshi la talked on 'Mapping The Tibetan Freedom Struggle.' Perhaps the ice has not broken yet, there was not even a single question or comment after the talk. We'll see the atmosphere slowly easing out.

After lunch we sat around to discuss the coming six days. Participants responded for the first time when they have to decide whether they would do the 'Martyr Pillar' and the 'Physical Training.' The idea of the pillar was welcomed and appreciated by all. The idea of doing Physical Training in the morning was also appreciated but for practical grounds it was not possible as the participants coming from Camp no: 7, 6, 5 and 4 would find it difficult to come. So we all decided not to do the physical training.

At 2pm, the film 'Gandhi' (Dir: Richard Attenborough) was screened. Since the participants have to return home early, having to walk about 12kms, we scheduled the afternoon programmes in such a way that by 5pm the workshop would be over.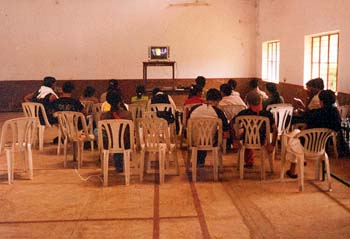 Watching The Film 'Gandhi'


DAY 1 | DAY 2 | DAY 3 | DAY 4 | DAY 5 | DAY 6 | DAY 7
---
List of Participants (Chattisgarh): Dawa Tsetan, Sonam, Migmar Tashi, Kalsang Youdon, Chemi Dolkar, Sonam Gyatsen, Tenzin Sherab, Jamphel, Tsering Dhondup, Tenzin Paldon, Tenzin Yangkyi, Sonam Dolma, Lobsang Samten, Tenzin Choklang, Kunga Tashi, Tenzin Tsering, Sonam, Tenzin Jangchup, Karma Gyurmey, Chime Yangzom, Thupten Choephel, Sonam Gyurmey, Choedon, Tashi Gyurmey, Tenzin Choegyal and Tenzin Pehka.