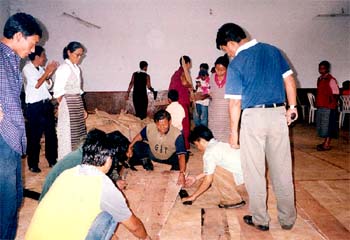 Workshop Room Turns Into A Workshop

Day 5 (Sept 24, 2002): Today Sethu Das spoke on 'An Outsider's Point Of View'. 'Though I do not feel that I am an outsider, I think it is important to look at the issue from An Outsider's Point Of View' he said. While analysing the movement he pointed out the drawbacks which we all had to sadly agree with.

Today we recovered on the film screenings we missed yesterday and day before. We spent almost the whole afternoon watching the remaining four parts of the documentary, 'A Force More Powerful: A Century Of Non- Violent Conflict.' I introduced the film to the participants and at the end of it I summerised four stories one by one.

The second film, 'Windhorse' (Dir: Paul Wagner) was introduced by Tenzin Tsedup la. He himself being a recent escapee from Tibet added importance to the film. During the screening, many of the participants sobbing as the sad story of a family in Tibet unfolded.

Two drama pieces were slowly coming into places. Tomorrow they have to be presented in the afternoon. If they are good, will be presented to the public on the last day of the workshop.

'Martyr Pillar' is standing bold with the four frames supporting it. Tomorrow the frames will be taken off and final touches will be done on it.

We saw the day's end with the Tibetan National Uprising Song.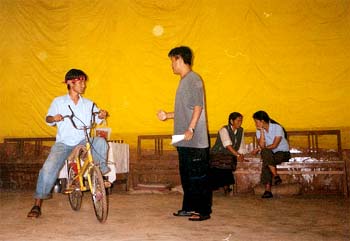 'Drama As A Means Of Expression'

DAY 1 | DAY 2 | DAY 3 | DAY 4 | DAY 5 | DAY 6 | DAY 7
---
List of Participants (Chattisgarh): Dawa Tsetan, Sonam, Migmar Tashi, Kalsang Youdon, Chemi Dolkar, Sonam Gyatsen, Tenzin Sherab, Jamphel, Tsering Dhondup, Tenzin Paldon, Tenzin Yangkyi, Sonam Dolma, Lobsang Samten, Tenzin Choklang, Kunga Tashi, Tenzin Tsering, Sonam, Tenzin Jangchup, Karma Gyurmey, Chime Yangzom, Thupten Choephel, Sonam Gyurmey, Choedon, Tashi Gyurmey, Tenzin Choegyal and Tenzin Pehka.