'Non-Violent Action For Tibet' Workshop
(Sept 20-26, 2002. Mainpat, Chattisgarh)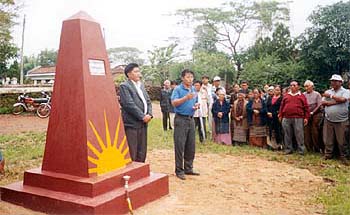 Karma Yeshi la Introduces the 'Martyr Pillar'

Day 7 (Sept 26, 2002): The last day of the workshop at Mainpat Tibetan Settlement, Chattisgarh was a hectic one with many things happening on a single day. First session of the day was conducted by Karma Yeshi la, who initiated a discussion on 'Non-Violent Action.' Second session was used to discuss Mahatma Gandhi's 'Hind Swaraj or Indian Home Rule'. Many participants had already read some portions from the book in the last six days. I tried to explain the relationship between China and Tibet -- as an invader and an invaded country.

During the lunch time, the participants came with requests from people who wanted to see the drama pieces. We decided to perform both the dramas to the public. Within minutes the hall was set with ropes criss- cross and curtains decorating the stage. Momo las and popa las worked shoulder to shoulder.

'Public Meet' and the inauguration of the 'Martyr Pillar' happened at 2.30pm in front of the settlement office. Monument was standing majestically with the rising sun freshly painted this morning. Sonam la, one of the workshop participants took charge of the function as the master of the ceremony. People of all age had gathered around the pillar.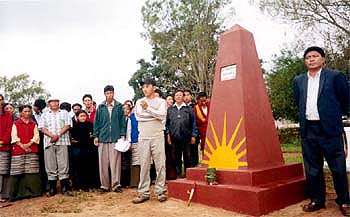 Face To Face: Trainees Speaking To The Public

Karma Yeshi la explained the workshop process -- how it began and the ongoing process. He thanked everyone from the settlement, whose support and coordination made the workshop a success in Mainpat. Wangdu Tsering la, the Settlement Officer inaugurated the 'Martyr Pillar' by lighting a butter lamp in front of the pillar. He thanked the workshop team and requested the participants to continue the process inside and outside the settlement. Four participants expressed their responses to the workshop in the public and most of them were speaking in the public for the first time, they said but when they got encouraged, they were all excellent speakers.

For many, the monument was more than a pillar. Workshop participants, trainees, office staffs and the public paid their respects. We observed a Symbolic Two-Minute Silence in memory of all the martyrs.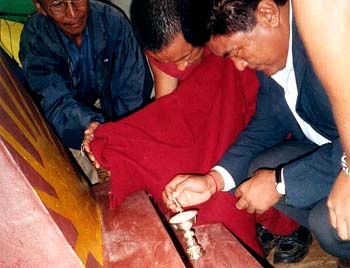 Inauguration by Wangdu Tseing la, the Settlement Officer


DAY 1 | DAY 2 | DAY 3 | DAY 4 | DAY 5 | DAY 6 | DAY 7
---
List of Participants (Chattisgarh): Dawa Tsetan, Sonam, Migmar Tashi, Kalsang Youdon, Chemi Dolkar, Sonam Gyatsen, Tenzin Sherab, Jamphel, Tsering Dhondup, Tenzin Paldon, Tenzin Yangkyi, Sonam Dolma, Lobsang Samten, Tenzin Choklang, Kunga Tashi, Tenzin Tsering, Sonam, Tenzin Jangchup, Karma Gyurmey, Chime Yangzom, Thupten Choephel, Sonam Gyurmey, Choedon, Tashi Gyurmey, Tenzin Choegyal and Tenzin Pehka.