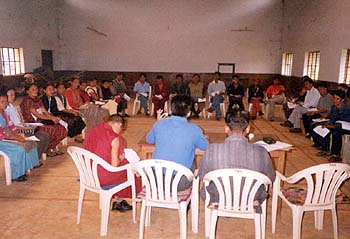 Karma Yeshi la on 'Activism in Exile'

Day 3 (Sept 22, 2002): An unexpected rain put half of the day's plan into chaos. Huge streak of thunder that fell in the nearby field scored away the electricity, which left us unable to watch the films. The settlement looked washed now and there are puddles everywhere. The dirt road is now mocked with footprint in the mud.

Today, Karma Yeshi la talked on 'Activism In Exile' followed by a question and answer session. He analysed various activities we've been involved in the past many years. After the talk one of the participants presented a poem in Tibetan he wrote after being inspired by the film 'Gandhi':

''freedom does not fall from the sky
like rain drops.
We have to fight for it.
Gandhi has taught us this''

We made the base of the 'Martyr Pillar' up to four brick level. We went to collect sand and rocks to fill the base of the pillar. 'The base should be strong as it is the most important part of any construction' said Tsering Dhondup la, the eldest of the participants. He has loads of experience of such work from his years of road construction labour he had during the early years of life in exile in India in the 60's.

During lunch, drops trickled and it turned into a torrential rain. We were bound at the dining venue and it further delayed our schedule. Only after the rain stopped we were able to continue our work.

There were no electricity in the settlement due to heavy rains. So we had to cancell the second part of the film 'A Force More Powerful.'

Karma la explained one of our most effective exercise -- 'Drama As A Means Of Expression,' after which I spoke the concept of drama and explained how this is the most effective way to communicate. Participants were divided into two groups. They have been asked to script and create a drama addressing the Tibetan issue. With assistance from Tsedup la and myself, two groups started discussing the drama. They continued working on their plays till 6pm.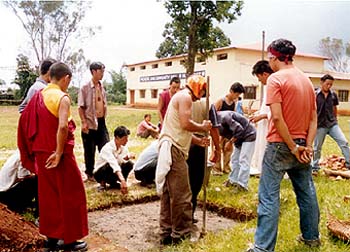 Work Continues At The Pillar Site


DAY 1 | DAY 2 | DAY 3 | DAY 4 | DAY 5 | DAY 6 | DAY 7
---
List of Participants (Chattisgarh): Dawa Tsetan, Sonam, Migmar Tashi, Kalsang Youdon, Chemi Dolkar, Sonam Gyatsen, Tenzin Sherab, Jamphel, Tsering Dhondup, Tenzin Paldon, Tenzin Yangkyi, Sonam Dolma, Lobsang Samten, Tenzin Choklang, Kunga Tashi, Tenzin Tsering, Sonam, Tenzin Jangchup, Karma Gyurmey, Chime Yangzom, Thupten Choephel, Sonam Gyurmey, Choedon, Tashi Gyurmey, Tenzin Choegyal and Tenzin Pehka.