'Non-Violent Action For Tibet' Workshop
(Sept 9-14, 2002. Mainpat, Chattisgarh)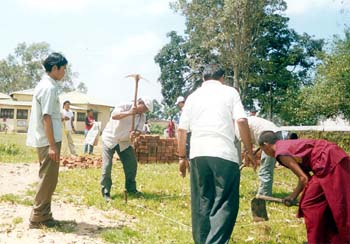 Work Begins For The 'Martyr Pillar'

Day 2 (Sept 21, 2002): Tenzin Tsedup's talk 'Freedom Struggle Inside Tibet' created lot of curiosity and interest among the participants. They asked many questions till we run 15 minutes into the tea break.

The Settlement Officer has been consulted regarding the 'Martyr Pillar.' One group started digging the pit for the pillar base, while some fetched water from the nearby staff room to the construction site.

In the afternoon, we had a Group Discussion. Participants were grouped into three and they sat around to discuss three issues -- for the future of Tibet 'what the exile government should do?' 'What the NGOs should do?' What the people should do?' Three speakers from each group presented their views. They wrote down the points and submitted them to Karma Yeshi la who was initiating the discussion.

In the next half an hour we discussed the film screened yesterday, 'Gandhi'. It was interesting to note that the participants quoted various incidents from Gandhi's life as a leader. The discussion went into Sino-Indian relations and possible scenario in the future.

The video screening was to follow, but we had some technical problems with the TV and could not start the screening on time. And I introduced first part of the documentary film 'A Force More Powerful: A Century Of Non-Violent Conflict' (Dir: Steve York).

We saw the day's end with the Tibetan National Uprising Song.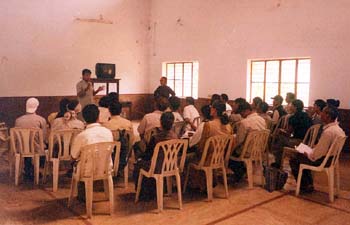 Screening of the Documentary, 'A Force More Powerful'


DAY 1 | DAY 2 | DAY 3 | DAY 4 | DAY 5 | DAY 6 | DAY 7
---
List of Participants (Chattisgarh): Dawa Tsetan, Sonam, Migmar Tashi, Kalsang Youdon, Chemi Dolkar, Sonam Gyatsen, Tenzin Sherab, Jamphel, Tsering Dhondup, Tenzin Paldon, Tenzin Yangkyi, Sonam Dolma, Lobsang Samten, Tenzin Choklang, Kunga Tashi, Tenzin Tsering, Sonam, Tenzin Jangchup, Karma Gyurmey, Chime Yangzom, Thupten Choephel, Sonam Gyurmey, Choedon, Tashi Gyurmey, Tenzin Choegyal and Tenzin Pehka.