'Non-Violent Action For Tibet' Workshop
(June 17-22, 2002. Darjeeling, West Bengal)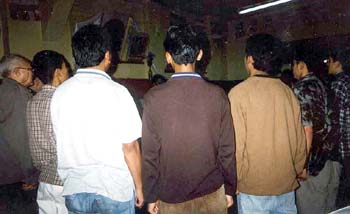 Observing Two-Minute Silence

Day Six (Saturday. June 22, 2002): Last day in Darjeeling. Today we have only one session. By 12pm we will be leaving for Kalimpong for the next workshop on 'Non-Violent Action For Tibet.'

In the first session we discussed Mahatma Gandhi's 'Hind Swaraj or Indian Home Rule'

. During the tea break, many participants came forward to give 'khatas' and a small donations for the continuation of the workshop process. The first donation of Rs 150 was from Dakpa Sangye la, a workshop participant who introduced himself as a 'beggar'. Dakpa la worked in ITBP before, now survives on begging. He is well informed with the latest happenings in Tibet and in exile -- thanks to RFA and VoA and his ten year old radio.

By 12.30pm, we left for Kalimpong. Said 'good bye' and 'good wishes' to all the participants and those helped to make the workshop a success.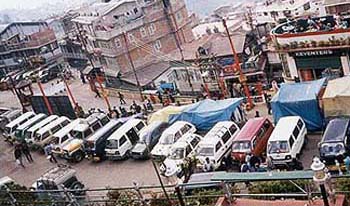 It was time for us to catch a taxt to Kalimpong


DAY 1 | DAY 2 | DAY 3 | DAY 4 | DAY 5 | DAY 6
---
List of Participants (Darjeeling): Norbu Thondup, Phuntsok Tsering, Tashi Dhondup, Nyima Dorjee, Tenzin Sonam, Sonam Topgyal, Tenzin Dekeva, Kalsang Lhamo, Yangkyi, Phuntsok Rabten, Tenzin C Bhutia, Tenzin Nyinjee, Ake Tsering, Tasak, Pema Choephel and Dakpa Sanngye.