'Non-Violent Action For Tibet' Workshop
(June 17-22, 2002. Darjeeling, West Bengal)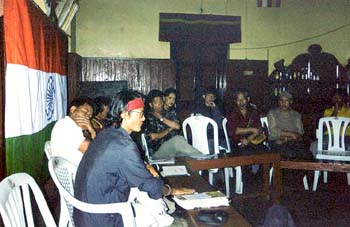 Tenzin Tsundue on 'An Activists' Insights'

Day Four (Thursday. June 20, 2002): It was my talk today and the topic was 'An Activists' Insights'. Some students could not reach the workshop today as they had to appear for the examinations. But there were 15 people excluding the observers.

In the second session, the group worked on the drama which was presented in the afternoon at 1.15pm. The theme of the drama was the workshop itself. It was a lengthy drama and not a very organised one. Actors were finding the noise and smoke from the vehicles outside difficult. Some of the observers also joined the team.

After tea, we screened two parts of 'A Force More Powerful: A Century of Non-Violent Conflict'. There were not much comments or reactions on the film.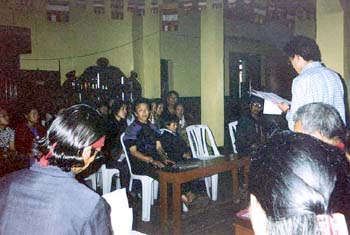 Scene from the drama based on the workshop


DAY 1 | DAY 2 | DAY 3 | DAY 4 | DAY 5 | DAY 6
---
List of Participants (Darjeeling): Norbu Thondup, Phuntsok Tsering, Tashi Dhondup, Nyima Dorjee, Tenzin Sonam, Sonam Topgyal, Tenzin Dekeva, Kalsang Lhamo, Yangkyi, Phuntsok Rabten, Tenzin C Bhutia, Tenzin Nyinjee, Ake Tsering, Tasak, Pema Choephel and Dakpa Sanngye.