'Non-Violent Action For Tibet' Workshop
(June 17-22, 2002. Darjeeling, West Bengal)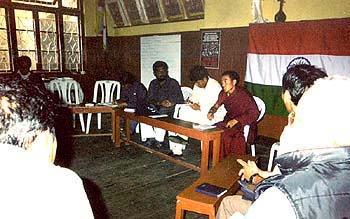 Tenzin Tsedup explains the situation inside Tibet

Day Two (Tuesday. June 18, 2002): There was no morning exercise. The day began with Tenzin Tsedup la's talk on 'Freedom Struggle Inside Tibet'. Since there are no concrete plans to lay down the 'Martyr Pillar', the 'work session' was used to discuss the 'Structure of the Exile Government' by Karma Yeshi la. He spoke briefly on the history of the Tibetan government in exile in India and the present structure.

Since there were only 15 participants, all of them decided to write a single script and present a single drama. This morning we had six more participants. And some of the first day faces were missing.

'A Fore More Powerful: A Century of Non-Violent Conflict' (Dir: Steve York) was screened in the afternoon.

Pema Choephel la, an ex-army man and one of the participants of the workshop took us to a nearby hill, a prayer spot near 'Char Rasta' where he suggested the possible pillar to be erected. We handed over the design and the measurements of the 'Martyr Pillar' to those who promised to work on it.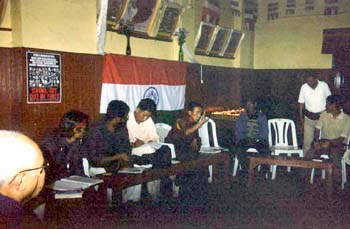 Karma Yeshi la on the 'Structure of the Exile Government'


DAY 1 | DAY 2 | DAY 3 | DAY 4 | DAY 5 | DAY 6
---
List of Participants (Darjeeling): Norbu Thondup, Phuntsok Tsering, Tashi Dhondup, Nyima Dorjee, Tenzin Sonam, Sonam Topgyal, Tenzin Dekeva, Kalsang Lhamo, Yangkyi, Phuntsok Rabten, Tenzin C Bhutia, Tenzin Nyinjee, Ake Tsering, Tasak, Pema Choephel and Dakpa Sanngye.