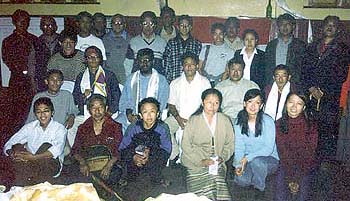 Participants and trainers of the Darjeeling workshop

Day One (Monday. June 17, 2002): Preparations for the sixth workshop on 'Non-Violent Action For Tibet' organised by the Friends of Tibet (INDIA) went on well and we were ready for a good beginning. Sadly, the participants were not there even at 9am.

Chief guest for the inaugural function was Rev Chogyal Tenzin la, (Member, ATPD). He reached at 8.30am and worked with us and started waiting for the participants to arrive. Time dragged on. Regional Tibetan Youth Congress members, heads of various NGOs also arrived on time for the inauguration.

Finally with 12 participants the inaugural talk started at 10am. Karma Yeshi la spoke on the workshop and broke down while talking about the need of public support and the initiatives in the Tibetan freedom struggle. Karma la, secretary of the Darjeeling Tibetan Welfare Office welcomed the workshop team to Darjeeling.

Rev Chogyal Tenzin la spoke next. He spoke on the importance of such workshops, further analysis and action for Tibet even after the workshop. His talk was the formal inauguration for the workshop.

First session began with Karma Yeshi la on 'Mapping the Tibetan Freedom Struggle' followed by a question and answer session. After lunch was for the in-depth understanding of each participants -- a usual technique of 'pairing' two participants, talking to each other and introducing each other to the floor.

At 2pm we screened the film Gandhi by Richard Attenborough and at least 50 school children from the Central School for Tibetans (CST) had come to watch.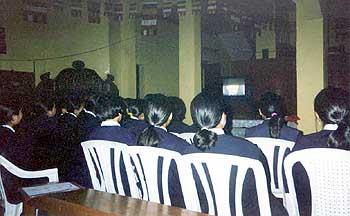 CST students watching the film 'Gandhi'


DAY 1 | DAY 2 | DAY 3 | DAY 4 | DAY 5 | DAY 6
---
List of Participants (Darjeeling): Norbu Thondup, Phuntsok Tsering, Tashi Dhondup, Nyima Dorjee, Tenzin Sonam, Sonam Topgyal, Tenzin Dekeva, Kalsang Lhamo, Yangkyi, Phuntsok Rabten, Tenzin C Bhutia, Tenzin Nyinjee, Ake Tsering, Tasak, Pema Choephel and Dakpa Sanngye.