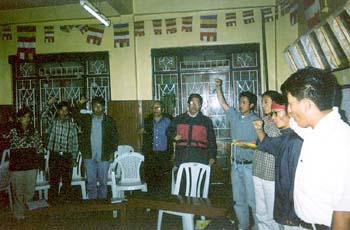 Singing the Uprising Song

Day Three (Wednesday. June 19, 2002): A talk by Karma Yeshi la on 'Activism in Tibetan Freedom Struggle' was the first programme of the day.

Some observers continued to come today also. Today again we were late by 10 minutes but from the day one's training, we have improved a lot. Afternoon session was given to the participants to practice and develop their drama. The story seems to be coming up well. Everyone is taking part in it -- youngsters, old people and two women.

Post lunch session was for the screening of Hortsang Jigme's 'Return To Tibet To Resolve The Issue,'

the third 'Heart-Of-The-Matter' organised by the Friends of Tibet (INDIA) in Dharamsala. Responses were tremendous and was followed by a discussion.

The remaining part of 'A Force More Powerful' was screened today evening.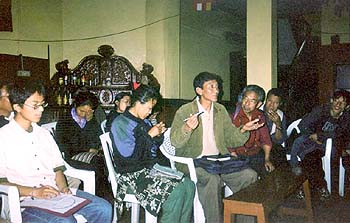 Responding to the idea 'Return To Tibet To Resolve The Issue'


DAY 1 | DAY 2 | DAY 3 | DAY 4 | DAY 5 | DAY 6
---
List of Participants (Darjeeling): Norbu Thondup, Phuntsok Tsering, Tashi Dhondup, Nyima Dorjee, Tenzin Sonam, Sonam Topgyal, Tenzin Dekeva, Kalsang Lhamo, Yangkyi, Phuntsok Rabten, Tenzin C Bhutia, Tenzin Nyinjee, Ake Tsering, Tasak, Pema Choephel and Dakpa Sanngye.