'Non-Violent Action For Tibet' Workshop
(June 17-22, 2002. Darjeeling, West Bengal)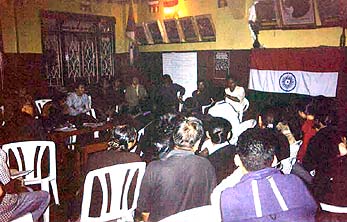 Participants speaking to the people of Darjeeling

Day Five (Friday. June 21, 2002): Sethu Das' talk on 'An Outsider's Point Of View' opened the day this morning. We talked on few points Sethu pointed out in his talk. He asked all the participants to fill up a questionnaire he prepared.

After the tea session, we discussed the film 'A Force More Powerful' and six struggles based on non-violence. I alanysed till the struggles shown in the film and presented how economic boycotts proved useful and proposed we can wage an economic war against China by boycotting products 'Made in China'. This created lot of concerns and questions. A group strongly opposed the idea of boycotting Chinese goods while the other group strongly recommended. Some praised the 'quality' and the 'cheap price' of Chinese goods while other group determined to boycott. Later we analysed boycotts movements worldwide -- started from IRA in Northern Ireland to South Africa to Palestine to India. This session was an eye opener to many.

The afternoon discussion on 'Planning Non-Violent Action' proved useful and successful. By 2.30pm, people started coming for the public talk. There were two groups talking to two gatherings of people from Darjeeling. This was a session where we saw the real potential of the participants. Some spoke in length, some briefly on the subject. Many were facing a crowd for the first time. But they spoke well about what they learned and their future plans.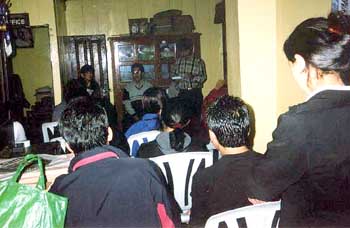 'Planning Non-Violent Action'

DAY 1 | DAY 2 | DAY 3 | DAY 4 | DAY 5 | DAY 6
---
List of Participants (Darjeeling): Norbu Thondup, Phuntsok Tsering, Tashi Dhondup, Nyima Dorjee, Tenzin Sonam, Sonam Topgyal, Tenzin Dekeva, Kalsang Lhamo, Yangkyi, Phuntsok Rabten, Tenzin C Bhutia, Tenzin Nyinjee, Ake Tsering, Tasak, Pema Choephel and Dakpa Sanngye.