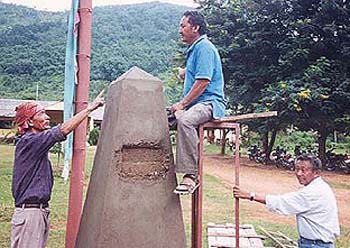 Migmar la Leads The Work on Pillar

Day 4 (Sept 12, 2002): We have improved in covering distances. Today we ran for about an hour covering 5kms. We agreed to run up to camp no: 2 and return.

This morning, it was my turn to speak. I spoke on 'Individual As An Activist' -- how an individual can work and prepare oneself to become an activist, citing individual insights as an activist. I offered few suggestions by one may be able to contribute for Tibet.

'Martyr Pillar' was drying up in the hot sun. Some participants worked on it from afternoon. The wooden cart was taken off a smooth layer of cement and mixture was covered all over the pillar.

At 10.45am, we screened the second part of the documentary film by Steve York, 'A Force More Powerful: A Century of Non-Violent Conflict.' It went half an hour into the lunch break. The drama presentation was to happen in the afternoon, but we could not. Instead, we decided to do the drama presentation on the last day. There were only two responses on the documentary. Many said they didn't understand much of the film as it was in English. So I summarised the six episodes, one by one in detail. This seems to have done some help.

After tea, we showed the film 'Windhorse' (Dir: Paul Wagner). It was an appropriate film to be screened at this stage in the workshop process.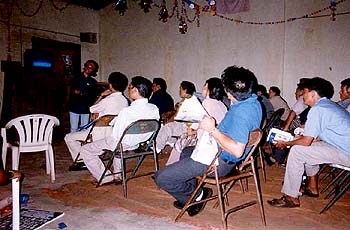 Introducing the Documentary, 'A Force More Powerful'


DAY 1 | DAY 2 | DAY 3 | DAY 4 | DAY 5 | DAY 6
---
List of Participants (Orissa): Migmar, Rinchen Gelek, Tenzin Losang, Tsering Dolma, Tenzin Mindup, Samten Wangmo, Tenzin Wangmo, Sonam Yangchen, Kalsang, Tashi Gyatso, Tsering Dhondup, Tenzin Choephel, Tsewang Thinley, Ngawang Tsetan, Dorjee, Nyima Tsering, Gedun Sangpo, Pema Tashi, Dawa Rinchen, Pema Sither, Choeying Gyurmey, Tsering Gyalpo, Karma Dorjee and Penpa Thackchoe.