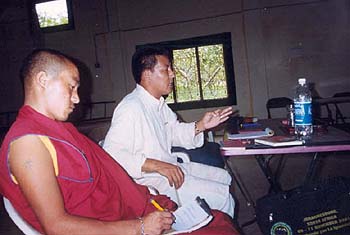 Karma Yeshi la on 'Activism in Exile'

Day 3 (Sept 11, 2002): This morning we met half an hour earlier as we all decided yesterday. At 6 o' clock we gathered, hoisted the Tibetan National Flag, sang the National Anthem. The team then went for a jogging for more than 4kms and returned.

Its being a Wednesday, the villagers held a special prayer for the long life of His Holiness the Dalai Lama. Some of the participants who went there joined the 9 o' clock session late. Today Karma Yeshi la spoke on 'Activism in Freedom Struggle in Exile' followed by a question and answer session. He touched the history of freedom struggle at different stages, analysed the pros and cons and stressed on where to put our best effort.

Today's work session gave everyone blisters in their palms. The work on the 'Martyr Pillar' began in the post-tea session. We filled up the base pit. Once the base was made strong, few volunteers worked on the skeleton and the wooden frame, while the rest practiced the drama.

We worked on the pillar till it stood bold upright six feet over and above the base one foot double steps. Participants and the trainers were tired at the end of the day, but we all had a sense of satisfaction that now the pillar stand tall.

It is interesting to note that among the 26 participants, we had experienced masons, two carpenters and lots of their enthusiastic workers. Because the work on the pillar got extended till late in the evening, we could not screen the second part of the documentary, 'A Force More Powerful: A Century of Non-Violent Conflict' and discuss the first part today. We plan to show part II tomorrow.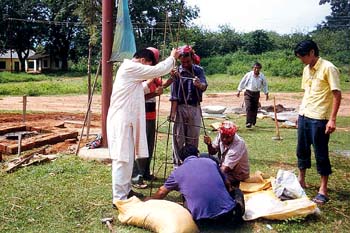 Martyr Pillar Taking Shape


DAY 1 | DAY 2 | DAY 3 | DAY 4 | DAY 5 | DAY 6
---
List of Participants (Orissa): Migmar, Rinchen Gelek, Tenzin Losang, Tsering Dolma, Tenzin Mindup, Samten Wangmo, Tenzin Wangmo, Sonam Yangchen, Kalsang, Tashi Gyatso, Tsering Dhondup, Tenzin Choephel, Tsewang Thinley, Ngawang Tsetan, Dorjee, Nyima Tsering, Gedun Sangpo, Pema Tashi, Dawa Rinchen, Pema Sither, Choeying Gyurmey, Tsering Gyalpo, Karma Dorjee and Penpa Thackchoe.