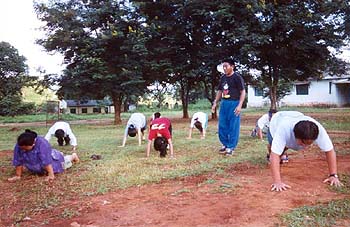 Physical Training Karma Dorjee la

Day 2 (Sept 10, 2002): At 6.30am eight participants had gathered at the ground in front of the Phuntsokling Settlement Office. Some more joined by and by. By 6.40am there were 16 of us standing straight in three rows. Karma Dorjee la, an ex-soldier from the Special Frontier Force (SFF) lead the team to into parade and then for a jogging outside the office compound. For almost 40 minutes we ran and walked and returned to the ground. We sang the Tibetan National Anthem and the Uprising Song -- 'Rise Up.'

We met again at 9am. Tenzin Tsedup la's talk 'Freedom Struggle Inside Tibet' evoked a lot of curiosity and interest in the people. There were many questions too.

The work on the 'Martyr Pillar' started after tea. We got the permission from the Settlement Office to build the pillar near the community prayer flag, standing in the middle of the Phuntsokling Settlement Office compound.

Some participants went to collect tools, some to collect sand and cement, while the rest worked at the site digging out the base bit. We collected rock pieces and bricks for the base. All of us worked on the 'Martyr Pillar' till lunch.

Post-lunch session was used to introduce 'Drama As A Means Of Expression.' Two groups were formed after Karma la and myself spoke on the practice of 'dramatisation' and on 'dramatics.' Two groups sat to discussed a theme and write the script for their play. Later the film 'Gandhi' was discussed -- one of the most interesting one we had.

After the tea, the first part of the documentary 'A Force More Powerful: A Century Of Non-Violent Conflict' (Dir: Steve York) was shown. First part of the documentary were screened after I gave an introduction to the film. Screening went on till 6pm.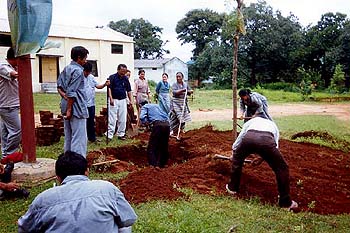 Work Begins For The Martyr Pillar


DAY 1 | DAY 2 | DAY 3 | DAY 4 | DAY 5 | DAY 6
---
List of Participants (Orissa): Migmar, Rinchen Gelek, Tenzin Losang, Tsering Dolma, Tenzin Mindup, Samten Wangmo, Tenzin Wangmo, Sonam Yangchen, Kalsang, Tashi Gyatso, Tsering Dhondup, Tenzin Choephel, Tsewang Thinley, Ngawang Tsetan, Dorjee, Nyima Tsering, Gedun Sangpo, Pema Tashi, Dawa Rinchen, Pema Sither, Choeying Gyurmey, Tsering Gyalpo, Karma Dorjee and Penpa Thackchoe.