'Non-Violent Action For Tibet' Workshop
(Sept 9-14, 2002. Chandragiri, Orissa)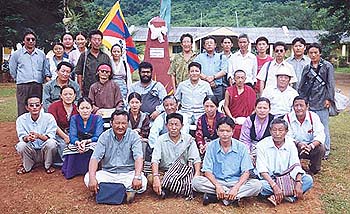 Workshop Team In Front of the 'Martyr Pillar'

Day 1 (Sept 9, 2002): With 23 participants, the tenth workshop on 'Non-Violent Action For Tibet' initiated by the Friends of Tibet (INDIA) at the Phuntsokling Tibetan Settlement, Orissa was inaugurated at the Settlement Community Hall.

The gathering was addressed by Karma Yeshi la who explained the details of the workshop and introduced the aims and objectives of this process. Jamphel Dhondup la, the Chairman of the Local Tibetan Assembly welcomed the workshop trainers to Phuntsokling Settlement and wished the workshop team all the success. He introduced each participants to the gathering, a little bit about their education, involvement in the society and the participation in the freedom struggle.

We then distributed the reading materials. I introduced the Mahatma Gandhi's 'Hind Swaraj or Indian Home Rule' quoting two paragraphs from the book. We briefly introduced 'Rangzen Band' and 'Dr Gene Sharp's 198 Methods of Non-Violent Protests and Persuasion.'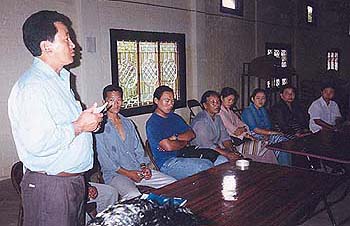 Inauguration Of The Workshop by Jamphel Dhondup la

After tea-session was for the talk by Karma Yeshi la on 'Mapping The Tibetan Freedom Struggle' followed by a question and answer session. One person responded to the talk, actually there was not much time left for a discussion.

Afternoon session was used to discuss to plan the next five days. People responded well to the idea of the 'Martyr Pillar' and they all agreed to work on it. The settlement camps being spread in the furthest distance of 7-8 kms, some participants expressed doubts on full participants in the Physical Training in the morning. Some are old and asked exception while some, especially the youngsters spoke in support of it. The participants thought it is too early to assemble at 5.30am for the morning exercise, So it is fixed at 6.30am.

After the tea, we screened the Richard Attenborough's film on 'Gandhi.' This time, we have the Hindi version of the film.

It was 7pm when we came out of the hall. Its dark and late for many to go home.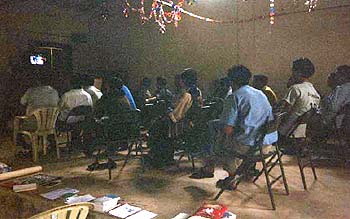 Watching The Film 'Gandhi'


DAY 1 | DAY 2 | DAY 3 | DAY 4 | DAY 5 | DAY 6
---
List of Participants (Orissa): Migmar, Rinchen Gelek, Tenzin Losang, Tsering Dolma, Tenzin Mindup, Samten Wangmo, Tenzin Wangmo, Sonam Yangchen, Kalsang, Tashi Gyatso, Tsering Dhondup, Tenzin Choephel, Tsewang Thinley, Ngawang Tsetan, Dorjee, Nyima Tsering, Gedun Sangpo, Pema Tashi, Dawa Rinchen, Pema Sither, Choeying Gyurmey, Tsering Gyalpo, Karma Dorjee and Penpa Thackchoe.