'Non-Violent Action For Tibet' Workshop
(June 23-28, 2002. Kalimpong, West Bengal)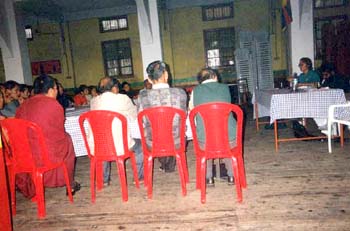 Tenzin Tsundue la on 'An Activists' Insights'

Day Four (Wednesday. June 26, 2002): Many participants registered in the list on the first day had not come. Some new faces were there. I gave a talk on 'An Activists' Insights' this morning. I begun with an example and saying that 'if this is the situation with the people's participation in a small workshop like this, how do we move forward?'

The drama practice again saw more changes. New faces kept coming, taking the old ones. Drama could not be presented in the afternoon. We had to conclude the session by 5pm due to the World Cup Football. Sad that many of us could not see our discussion more important than the football.

Three parts of the film, 'A Force More Powerful: A Century of Non- Violent Conflict' were screened in the afternoon and discussions were invited after the screening for 30 minutes. Even after tea, the discussion continued.

It is interesting to note that, people actually went to say 'Rangzen', but the Tibetan exile government stands for something else. So the people were divided. The general dogma is that he stand of the exile government is supreme, anyone criticizing the govt's stand is cynic and deplorable, itself suffered criticism.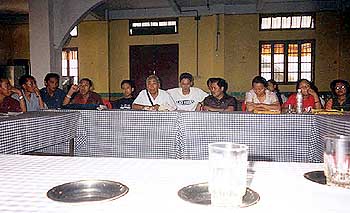 Responses On The Film 'A Force More Powerful'


DAY 1 | DAY 2 | DAY 3 | DAY 4 | DAY 5 | DAY 6
---
List of Participants (Kalimpong): Lobsang Chodak, Lhundup Tsomo, Yankey Lhamo, Yeshi Dolma, Rinzin Wangmo, Passang Tsering, Sonam Tsering, Tenzin Younton, Yangten Gyatso, Jamyang Tsering, Wangyal, Sonam Nyendek, Sonam Tsering, Tsering Chokyal, Lobsang Jigme, Norzin Dolma, Tsering Dorjee, Sonam Bhutia, Tenzin Wangmo, Thopgyal, Tenzin Kumphel, Tashi Thondup and Lobsang Tarchien.