'Non-Violent Action For Tibet' Workshop
(June 23-28, 2002. Kalimpong, West Bengal)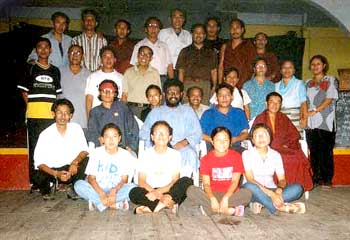 Kalimpong Workshop Participants and Trainers

Day One (Sunday. June 23, 2002): With 36 people, the 'Non-Violent Action For Tibet' workshop organised by the Friends of Tibet (INDIA) is now starting at the Community Hall at Kalimpong, West Bengal.

After Karma Yeshi la's general introduction to the workshop, Karma Choeying la, the Tibetan Welfare Officer for Darjeeling and Kalimpong welcomed the workshop team and introduced organisations based in Kalimpong and the staff.

Now it is time for the introduction section. Session got delayed as two elder members went into long speeches telling stories of their deeds of the war they fought in Tibet and Bangladesh. For the first time, the time allotted for the introductions was completely spent.

In the next session, Karma Yeshi la spoke on the topic 'Mapping the Tibetan Freedom Struggle.' There were not many questions or comments. All participants and the trainers had lunch at the Community Hall arranged by the Regional Tibetan Youth Congress (RTYC). Next was the 'Study of Participants' Role In the Freedom Struggle' and many had to speak in English as they did not know their own language.

The film 'Gandhi' (Dir: Sir Richard Attenborough) was screened at 4.30pm. Many left before the film got over. At 7.30pm, we sang the National Anthem and folded the Tibetan National Flag.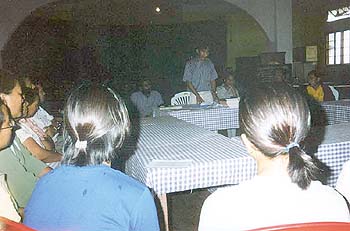 Inaguration by the Tibetan Welfare Officer, Karma Choeying la


DAY 1 | DAY 2 | DAY 3 | DAY 4 | DAY 5 | DAY 6
---
List of Participants (Kalimpong): Lobsang Chodak, Lhundup Tsomo, Yankey Lhamo, Yeshi Dolma, Rinzin Wangmo, Passang Tsering, Sonam Tsering, Tenzin Younton, Yangten Gyatso, Jamyang Tsering, Wangyal, Sonam Nyendek, Sonam Tsering, Tsering Chokyal, Lobsang Jigme, Norzin Dolma, Tsering Dorjee, Sonam Bhutia, Tenzin Wangmo, Thopgyal, Tenzin Kumphel, Tashi Thondup and Lobsang Tarchien.