'Non-Violent Action For Tibet' Workshop
(June 23-28, 2002. Kalimpong, West Bengal)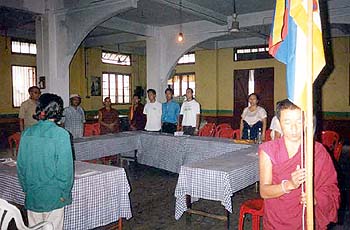 Day Begins With The National Anthem

Day Three (Wednesday. May 29, 2002): Early morning there was a weekly prayer at the settlement for the long life of His Holiness the Dalai Lama. The morning exercise saw some new faces. Today's exercises were for the stomach. For jogging we went towards Camp no: 1. Later we departed for a shower and breakfast after singing the Uprising Song.

It was my session in the morning. I spoke on 'An Activist's Insights'. There were many questions too.

The afternoon session was for the screening of Hortsang Jigme's talk on 'Return To Tibet To Resolve The Issue', the third 'Heart-Of-The-Matter' Friends of Tibet (INDIA) organised in Dharamsala recently. There were not many people enjoying the idea of returning to Tibet. Some felt Hortsang Jigme is right. Today trainees had more to 'watch' than 'speak'. Next was the screening of the last two parts of the documentary 'A Force More Powerful: A Century of Non-Violent Conflict' (Dir: Steve York).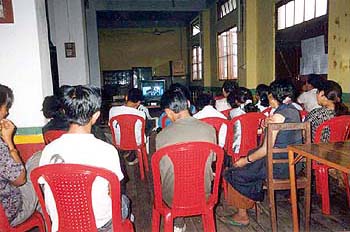 Listening to the idea of 'Returning To Tibet'


DAY 1 | DAY 2 | DAY 3 | DAY 4 | DAY 5 | DAY 6
---
List of Participants (Kalimpong): Lobsang Chodak, Lhundup Tsomo, Yankey Lhamo, Yeshi Dolma, Rinzin Wangmo, Passang Tsering, Sonam Tsering, Tenzin Younton, Yangten Gyatso, Jamyang Tsering, Wangyal, Sonam Nyendek, Sonam Tsering, Tsering Chokyal, Lobsang Jigme, Norzin Dolma, Tsering Dorjee, Sonam Bhutia, Tenzin Wangmo, Thopgyal, Tenzin Kumphel, Tashi Thondup and Lobsang Tarchien.