'Non-Violent Action For Tibet' Workshop
(Sept 30 - Oct 6, 2002. Bhandara, Maharashtra)


Planning Non-Violent Action

Day 7 (Oct 6, 2002): The last day of the workshop became very hectic. Today we had one session on 'Understanding Non-Violence.' The first session was dedicated for a discussion on this.

Later we discussed Mahatma Gandhi's 'Hind Swaraj or Indian Home Rule,' a text which sparked off the Indian Nationalist Movement. I explained the relationship between the invader and the invaded country -- how India and Tibet fell to colonial powers. Then we had a discussion on 'Self Analysis And Future Plans' where many took pledges not to buy, sell or use any products 'Made In China.'

Dramas were rehearsed in the afternoon as the participants had decided to perform two dramas to the public. We made some changes in both. Two groups had come together and they helped each other. Drama will be performed to the people at Camp no: 1 today and Camp no: 2 tomorrow.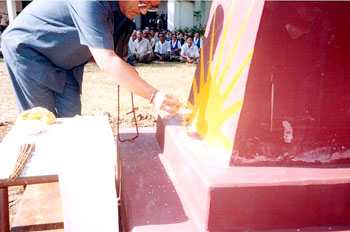 Inauguration The Pillar by Gompo Tashi la

By 3pm, people from both the camps had gathered near the 'Martyr Pillar.' Many were seeing it for the first time. Gompo Tashi la, the Bhandara Settlement Officer inaugurated the pillar by lighting a butter lamp. He asked the workshop participants to continue this process in the settlement and outside. Karma Yeshi la gave an introduction to the pillar.

With this we have come to the end of the workshop on 'Non-Violent Action For Tibet' in Central India. The 12th in the series, first one being organised in Dharamsala almost an year ago, now we plan to cover all the settlements in India, Nepal and Bhutan.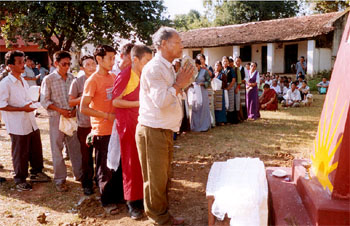 Paying Homage To The Martyrs


DAY 1 | DAY 2 | DAY 3 | DAY 4 | DAY 5 | DAY 6 | DAY 7
---
List of Participants (Maharashtra): Tsering Wangdue, Tashi Wangdue, Pema Damdul, Tsering Choephel, Tenzin Dhargyal, Tamdin, Dolkar Lhamo, Tsering Norzom, Pempa Dolma, Tsomo, Ngawang, Pema Dorjee, Rhipak Palden, Kalsang Thinley, Kusang, Sonam Choedom, Lhamo Norzo, Tsering Lhadon, Lhamo, Pempa Chokpa, Tsering Dolma, Sonam Palzom, Ngawang, Tsering Phuntsok, Jampa Phuntsok, Lhakpa Dolma, Tsering Wangmo, Kusang Dochen, Tenzin Passang, Pema Rinchen, Tenzin Kunga, Rinzin Namgyal, Tenzin L, Choe Gyaltsen and Sonam Tsering.