'Non-Violent Action For Tibet' Workshop
(Sept 30 - Oct 6, 2002. Bhandara, Maharashtra)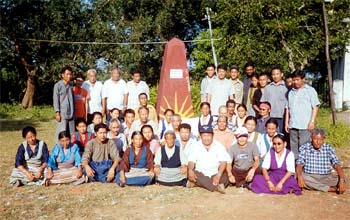 Workshop Team In Front of The Martyr Pillar They Built

Day 1 (Sept 30, 2002): All the thirty seats arranged for the participants were occupied, some enthusiastic bystanders were standing against the wall when we assembled in the Norgyeling Tibetan Settlement Community Hall, Bhandara, Maharashtra State.

The chief guest for the inaugural ceremony of the workshop on 'Non- Violent Action For Tibet' was the Settlement Officer, Gompo Tashi la. He welcomed the workshop team and explained the need for such a workshop in the settlement. 'It is important to get trained in order to complete tasks in the most effective way,' he said.

Surprisingly for a workshop announced weeks in advance, the participants gathered on a voluntary basis were all older people unlike other Tibetan settlements we went. There were very few youngsters.

We had a very successful Introduction Session today. Almost all the participants spoke in length briefing their involvement in the freedom struggle. Karma Yeshi la's talk on 'Mapping The Tibetan Freedom Struggle' draw enough attention and questions from the participants. We had to dedicate almost 20 minutes from the lunch break.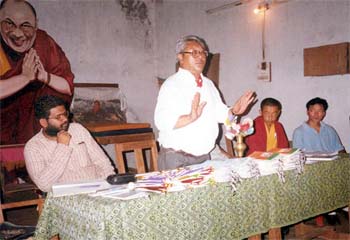 Wangdu Tsering la, Inaugurates The Workshop

In the afternoon we distributed reading materials and introduced each one of them. Then we discussed the next six days of the workshop. Since majority of them were old, they were very few hands raised for the morning physical training while everyone unanimously supported the plan to construct the 'Martyr Pillar.' Among the participants there was a mason and a carpenter. Many had worked with the Tibetan-Indian Army and with the road construction.

We screened the film 'Gandhi' directed by Richard Attenborough. We concluded the day with the Tibetan National Song.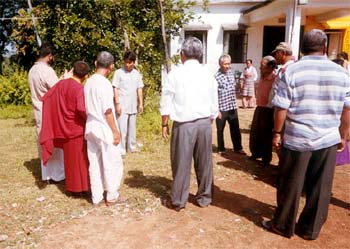 Selecting The Site For The 'Martyr Pillar'


DAY 1 | DAY 2 | DAY 3 | DAY 4 | DAY 5 | DAY 6 | DAY 7
---
List of Participants (Maharashtra): Tsering Wangdue, Tashi Wangdue, Pema Damdul, Tsering Choephel, Tenzin Dhargyal, Tamdin, Dolkar Lhamo, Tsering Norzom, Pempa Dolma, Tsomo, Ngawang, Pema Dorjee, Rhipak Palden, Kalsang Thinley, Kusang, Sonam Choedom, Lhamo Norzo, Tsering Lhadon, Lhamo, Pempa Chokpa, Tsering Dolma, Sonam Palzom, Ngawang, Tsering Phuntsok, Jampa Phuntsok, Lhakpa Dolma, Tsering Wangmo, Kusang Dochen, Tenzin Passang, Pema Rinchen, Tenzin Kunga, Rinzin Namgyal, Tenzin L, Choe Gyaltsen and Sonam Tsering.