'Non-Violent Action For Tibet' Workshop
(Sept 30 - Oct 6, 2002. Bhandara, Maharashtra)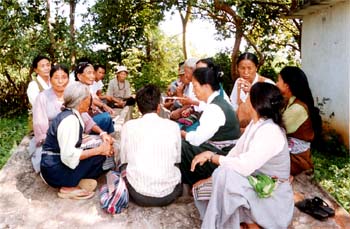 Planning Today's Public Meet

Day 6 (Oct 5, 2002): The day began with Karma Yeshi la's talk on 'Know Your Government' where he described the structure and the features of the Tibetan Government-in-Exile in India. Then he distributed a sketch with a full list of the concerned authorities. Many appreciated the talk as it was very informative. Talk was followed by a question and answer session.

The highlight of the day was the Public Meet. Unlike other settlements, Bhandara has only two camps. Since we have a huge group of about 18 participants from each of the two camps, only three or four would get the chance to speak to the public. Participants made the programme schedule and decided who would talk on what topic.

Public Meet happened at 3.30pm at both camps with the help of the camp leaders. Both meetings happened in the shadow of two huge trees. Each team had purposely appointed young and inexperienced speakers. Both the meets went on well.

Since the pillar was made ready this time earlier, we had the second session in the morning free, which we used to practice drama, as it was to be presented this afternoon. This time both the dramas told stories of atrocities the common Tibetans suffered in Tibet. One was a real story told by a workshop participant who is above 65. The composition of the workshop participants this time was mostly old people.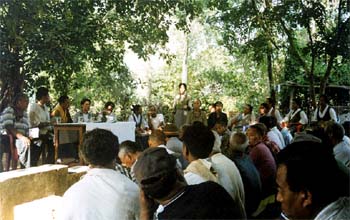 Reaching The Public: Public Meet At Camp No: 2


DAY 1 | DAY 2 | DAY 3 | DAY 4 | DAY 5 | DAY 6 | DAY 7
---
List of Participants (Maharashtra): Tsering Wangdue, Tashi Wangdue, Pema Damdul, Tsering Choephel, Tenzin Dhargyal, Tamdin, Dolkar Lhamo, Tsering Norzom, Pempa Dolma, Tsomo, Ngawang, Pema Dorjee, Rhipak Palden, Kalsang Thinley, Kusang, Sonam Choedom, Lhamo Norzo, Tsering Lhadon, Lhamo, Pempa Chokpa, Tsering Dolma, Sonam Palzom, Ngawang, Tsering Phuntsok, Jampa Phuntsok, Lhakpa Dolma, Tsering Wangmo, Kusang Dochen, Tenzin Passang, Pema Rinchen, Tenzin Kunga, Rinzin Namgyal, Tenzin L, Choe Gyaltsen and Sonam Tsering.