'Non-Violent Action For Tibet' Workshop
(Sept 30 - Oct 6, 2002. Bhandara, Maharashtra)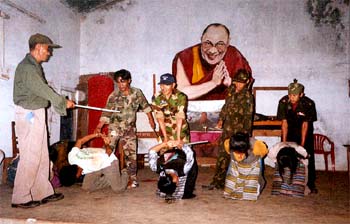 A Scene From The Drama

Day 5 (Oct 4, 2002): 'Martyr Pillar' was looking wonderful after the finishing touches. The red paint mixed with blood looked dark adding a grave solemnity to the pillar. By 8.30am, participants had gathered around the pillar. Today people had arrived much before the scheduled time.

Throughout the day there was an extra grave look that most of the participants wore on their face. It began from 'An Outsider's Point Of View,' the talk Sethu Das gave this morning. 'Forget our economic success stories as we have many. To achieve real success, we must first realise our mistakes and drawbacks,' he pointed out four weaknesses of the Tibetan freedom movement in exile in India. The talk was followed by a question and answer session which lasted for more than an hour.

Today we had two film screenings. During the work session we screened the remaining parts of the documentary, 'A Force More Powerful: A Century Of Non-Violent Conflict' (Dir: Steve York) followed by 'Tibet's Stolen Child' (Dir: Garthwait & Griffin). Many were finding it difficult to understand the film as it was in English.

In the afternoon, two groups practiced their drama pieces. It is finally coming into a form. People are not though experienced in anything to do on the stage, they were ready to try and see if they can act this way or say that dialogue. Their willingness to do anything needed for the drama is making it easy to fall everything into place. Tsering Wangdu la must be in his 60, but there is not a bend or a twist in this army trained body. He was asked to play the role of a father in a family in Tibet and later the priest of the village. People said he didn't know how to act that too. He is now playing an easy role of a Chinese police sporting a wooden plank for his gun.

In the evening we screened the film 'Windhorse' (Dir: Paul Wagner). Many were weeping while watching the film. One participant was crying uncontrollably.

We saw the day's end with the Tibetan National Uprising Song.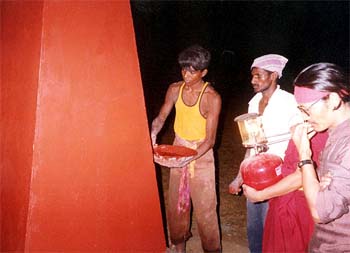 10.30pm: Work Continues Even At Night


DAY 1 | DAY 2 | DAY 3 | DAY 4 | DAY 5 | DAY 6 | DAY 7
---
List of Participants (Maharashtra): Tsering Wangdue, Tashi Wangdue, Pema Damdul, Tsering Choephel, Tenzin Dhargyal, Tamdin, Dolkar Lhamo, Tsering Norzom, Pempa Dolma, Tsomo, Ngawang, Pema Dorjee, Rhipak Palden, Kalsang Thinley, Kusang, Sonam Choedom, Lhamo Norzo, Tsering Lhadon, Lhamo, Pempa Chokpa, Tsering Dolma, Sonam Palzom, Ngawang, Tsering Phuntsok, Jampa Phuntsok, Lhakpa Dolma, Tsering Wangmo, Kusang Dochen, Tenzin Passang, Pema Rinchen, Tenzin Kunga, Rinzin Namgyal, Tenzin L, Choe Gyaltsen and Sonam Tsering.