'Non-Violent Action For Tibet' Workshop
(July 9-15, 2002. Rabangla. Sikkim)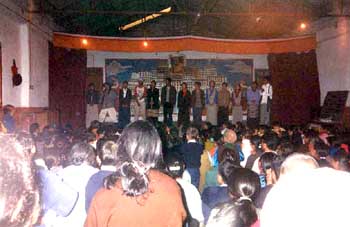 Participants Taking The Pledge While Speaking To The Public

Day Six (Sunday. July 14, 2002): Marble tablet for the 'Martyr Pillar' came back in the same form as the old man was not there in the hill. We now plan to get it painted. Pillar was painted yesterday, it was too dark, the red paint was coming out. Tenzin Tsedup la had gone there with a group of four participants to give the final touches.

Today, Karma Yeshi la spoke on the 'Know Your Exile Government' and distributed a small booklet he prepared.

It was the day of the participants. Group A and B presented their dramas. Group A led by Lodoe Nangpa la presented a very well managed and organised drama. The theme was on the workshop -- the difficulties they faced while looking for participants. Sangpo la, the Settlement Officer was the chief guest and he appreciated the drama. He requested the teams to perform the same before the people of Rabangla. Group B led by Tsering Wangyal la presented a short drama about a family in Tibet -- how each members of the family sacrifices their life defending Tibet's independence.

Now the participants have to speak to their people. Public meeting begun on time at all six camps at Rabangla. They spoke like leaders, like matured citizens -- on various topics ranging from 'boycotting Chinese goods' to 'Rangzen Bands.' Confidence of both participants and the people at camps was boosted. 'Public Meet' was a clear display of what an ordinary Tibetan can do to spread the word.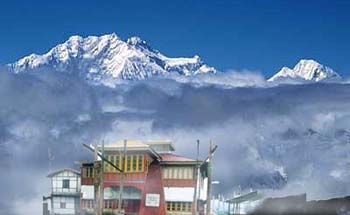 Kangchendzonga and Martyr Pillar: Ready To Be Inaugurated


DAY 1 | DAY 2 | DAY 3 | DAY 4 | DAY 5 | DAY 6 | DAY 7
---
List of Participants (Rabangla): Tsewang Paljor, Tsering Wangyal, Rinchen Dolma, Tsewang Choedon, Tsering Yangchen, Sonam Lhamo, Tsering Youdon, Bhuchung Tsering, Ugyen Tenzin, Lhakpa Bhuti, Dikyi, Karma Yangdol, Migmar Dolma, Pema Wangyal, Rinzin Khando, Tsering Tashi, Tsering Phuntsok, Lodoe Nangpa, Sonam Tsering, Youton Gyatso, Nyima Tsering, Youten Gyatso, Nyima Tsering, Tsechae Lhamo, Dolma Tsering, Thinley Youdon, Tsomo, Sonam Tharhyal, Nima Tsering, Kalsang Choedon and Woesel Lhamo.