'Non-Violent Action For Tibet' Workshop
(July 9-15, 2002. Rabangla. Sikkim)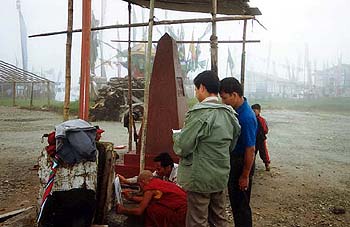 Construction at the 'Martyr Pillar' Site

Day Three (Thursday. July 11, 2002): This morning in heavy rain, enveloped in thick mist, six participants had already assembled at the exercise ground much before the meeting time. Participants kept coming.

Participants had come on time, even for the morning session. We were able to start the first session at 9.05am. Today, Karma Yeshi la spoke on 'Activism in Tibetan Freedom Struggle.' People were not forthcoming with questions or remarks. After the talk there was silence. Karma la then had to add more points and we broke for tea.

It was still raining. We continued to work on the 'Martyr Pillar' and the rain stopped. Today we made the base for the pillar. In the afternoon, for one session four participants had to stay back with the mason. While others remained inside to watch the video recording of the talk 'Return To Tibet To Resolve The Issue' by Hortsang Jigme (Member, ATPD). Some questions were asked and there concerns too. After tea, the next two parts of the film 'A Force More Powerful: A Century of Non-Violenct Conflict' were screened.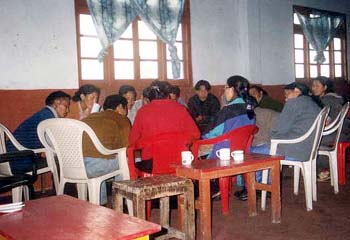 Group Discussion on 'Activism in Tibetan Freedom Struggle'


DAY 1 | DAY 2 | DAY 3 | DAY 4 | DAY 5 | DAY 6 | DAY 7
---
List of Participants (Rabangla): Tsewang Paljor, Tsering Wangyal, Rinchen Dolma, Tsewang Choedon, Tsering Yangchen, Sonam Lhamo, Tsering Youdon, Bhuchung Tsering, Ugyen Tenzin, Lhakpa Bhuti, Dikyi, Karma Yangdol, Migmar Dolma, Pema Wangyal, Rinzin Khando, Tsering Tashi, Tsering Phuntsok, Lodoe Nangpa, Sonam Tsering, Youton Gyatso, Nyima Tsering, Youten Gyatso, Nyima Tsering, Tsechae Lhamo, Dolma Tsering, Thinley Youdon, Tsomo, Sonam Tharhyal, Nima Tsering, Kalsang Choedon and Woesel Lhamo.