'Non-Violent Action For Tibet' Workshop
(June 30 - July 4, 2002. Gangtok. Sikkim)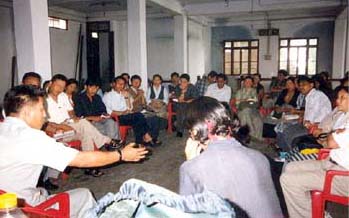 Karma Yeshi la Speaking To The Public

Day Five (Thursday. July 4, 2002): Sethu Das' talk on 'An Outsider's Point Of View' was well received. The talk went on till the last minute of the session. Later we discussed 'Non-Violent Actions' where we discussed various political activities Tibetans have been involved with. We were trying to understand the concept of non-violence.

After lunch, we planned for 'Public Meet'. But even at 1pm, the public gathering had not grown much. It was raining hard outside. So while waiting for the people to assemble, we discussed the film 'Gandhi'. I initiated the discussion by giving examples of few aspects of Gandhi's involvement in the Indian freedom struggle which defined India as a nation.

By 1.30pm, the crowd had grown to quite a huge size and the public talk begun with Thupten Wangyal la. Tsewang la's talk to the public was very encouraging. She became emotional while talking about those who died for Tibet, but continues the talk. I could hear many people crying sitting behind me. Six trainees from the workshop spoke on various issues ranging from the importance of patriotism to Rangzen Band. The session ended up with the drama presentation by Group A. Karma Yeshi la, Tenzin Tsedup la and myself spoke briefly. At the end of the workshop, Jimpa Phuntsok la, the president of the Regional Tibetan Youth Congress announced that Tashi Dawa la is donating Rs 15,000 towards the workshop process. He gave the money and wished the workshop team all the success and requested each one of us to continue the process. Then there was a flow of participants and other individuals to donate money for the completion and continuation of the workshop in other settlements in India.

After tea, concluding ceremony was held at 5pm. Tibetan Welfare Officer spoke at the end. He congratulated the workshop team and the participants who worked hard for five days. He now asks all the participants to continue to work for Tibet.

Tibetan Uprising Song was sung and the National Flag was brought down and folded.

Public Meet: By The People For The People


DAY 1 | DAY 2 | DAY 3 | DAY 4 | DAY 5
---
List of Participants (Gangtok): Sonam Gyaltsen, Migmar Phendok, Tsering Dongkar, Dechen Dokar, Tsering Choedhen, Karma, Jimpa Choehel, Karma Thinley Namgyal, Kalsang Tsultrim, Thinley Gyatso, Sonam Tsering, Wangchuk, Chung Chung, Choephel, Palden Tsering, Kalsang Wangyal, Gyatso Bhutia, Tashi Lhadon, Tsering Bhutti, Tashi Choedon, Sangay Choenzom, Lobsang Tsering, Karma Bhutia, Dawa Tsering, Nyima Wangdi, Dechen Choedon, Pema Wangchen, Ngawang Thardoe, Yangchen Dolkar, Kalsang Gyatso, Tanding, Nyima Lhamo, Tenzim, Tensang, Sonam Lhansom, Tsering Yangkyi, Lhakpa Dolma, Thupten Wangyal and Rinchen.