'Non-Violent Action For Tibet' Workshop
(June 30 - July 4, 2002. Gangtok. Sikkim)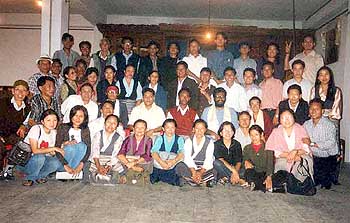 Participants and trainers with the Welfare Officer, Nawang Norbu la

Day One (Sunday. June 30, 2002): At the Chokasum Community Hall in Gangtok, Sikkim, this is the last of the many programmes this hall housed in the past. The opening session begun at 9.10am.

With the Welfare Officer Nawang Norbu la as the chief guest, the function commenced with the participants and other guests. Heads of the all the NGOs and government staffs attended the inaugural function of the workshop on 'Non-Violent Action For Tibet' organised by the Friends of Tibet (INDIA). Welfare officer welcomed the workshop team to Gangtok and thanked us on the behalf of the people of Gangtok.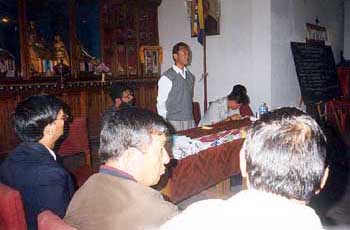 Inauguration by the Settlement Officer

Since there were many non-participants in the crowd only the names were said in the 'Introduction Section'. Out of 60 people gathered at the Community Hall, 20 people registered for the workshop. Before the tea session reading materials were distributed. Karma Yeshi la gave the first talk the first talk on 'Mapping the Tibetan Freedom Struggle' followed by a question and answer session.

Lunch happened at 12.30pm and the post-lunch session was dedicated to reading and other free materials were distributed. I gave a brief introduction to the 'Rangzen Band,' '198 Methods of Non-Violent Protests and Persuasion' by Dr Gene Sharp, Mahatma Gandhi's 'Hind Swaraj or Indian Home Rule' to create an interest to the book.

From 2pm, we discussed the coming four days of the workshop. So agreed to do the 'Martyr Pillar,' but after seeking permission from the local Indian authorities of Gangtok.

The film 'Gandhi' (Dir: Sir Richard Attenborough) could not be screened as the workshop had to be dismissed by 3.30pm for the World Cup football match final between Brazil and Germany.

Singing the Tibetan Uprising Song


DAY 1 | DAY 2 | DAY 3 | DAY 4 | DAY 5
---
List of Participants (Gangtok): Sonam Gyaltsen, Migmar Phendok, Tsering Dongkar, Dechen Dokar, Tsering Choedhen, Karma, Jimpa Choehel, Karma Thinley Namgyal, Kalsang Tsultrim, Thinley Gyatso, Sonam Tsering, Wangchuk, Chung Chung, Choephel, Palden Tsering, Kalsang Wangyal, Gyatso Bhutia, Tashi Lhadon, Tsering Bhutti, Tashi Choedon, Sangay Choenzom, Lobsang Tsering, Karma Bhutia, Dawa Tsering, Nyima Wangdi, Dechen Choedon, Pema Wangchen, Ngawang Thardoe, Yangchen Dolkar, Kalsang Gyatso, Tanding, Nyima Lhamo, Tenzim, Tensang, Sonam Lhansom, Tsering Yangkyi, Lhakpa Dolma, Thupten Wangyal and Rinchen.