'Non-Violent Action For Tibet' Workshop
(June 30 - July 4, 2002. Gangtok. Sikkim)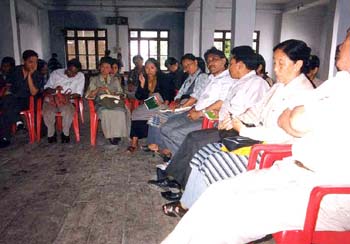 Interaction With the Trainers

Day Two (Monday. July 1, 2002): The introduction session couldn't be done yesterday so the participants and trainees do not know each other well, not even the names.

There are 28 participants this morning. There were many new faces and we did not have enough reading materials to offer them. 30 sets are already been distributed. Tenzin Tsedup's talk on 'Freedom Struggle Inside Tibet' ended up with the argument on 'independence' and 'middle way approach'. The discussion was followed by a debate. After tea there was a talk by Karma Yeshi la on the 'Structure of the Exile Government'. It seemed to be very informative as every one had something to ask.

The afternoon session, 'Drama As A Means of Expression' got heated up into discussing 'what drama can we play?' Two groups were formed -- each having about 15 people. Perhaps this has been the largest team we ever had and all of them taking part in the making of the drama. Karma Yeshi la cited examples of successful plays enacted in different Tibetan camps where the audience reacted very strangely; cases of people fainting seeing Tibetan being tortured by the Chinese on the stage. I gave technical aspects of the drama -- the new and created world.

In the second session of the workshop in the afternoon, the film 'A Force More Powerful: A Century Of Non-Violent Conflict' (Dir: Steve York) was screened -- only the first two parts.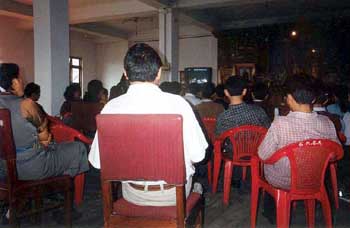 Screening of 'A Force More Powerful'


DAY 1 | DAY 2 | DAY 3 | DAY 4 | DAY 5
---
List of Participants (Gangtok): Sonam Gyaltsen, Migmar Phendok, Tsering Dongkar, Dechen Dokar, Tsering Choedhen, Karma, Jimpa Choehel, Karma Thinley Namgyal, Kalsang Tsultrim, Thinley Gyatso, Sonam Tsering, Wangchuk, Chung Chung, Choephel, Palden Tsering, Kalsang Wangyal, Gyatso Bhutia, Tashi Lhadon, Tsering Bhutti, Tashi Choedon, Sangay Choenzom, Lobsang Tsering, Karma Bhutia, Dawa Tsering, Nyima Wangdi, Dechen Choedon, Pema Wangchen, Ngawang Thardoe, Yangchen Dolkar, Kalsang Gyatso, Tanding, Nyima Lhamo, Tenzim, Tensang, Sonam Lhansom, Tsering Yangkyi, Lhakpa Dolma, Thupten Wangyal and Rinchen.