'Non-Violent Action For Tibet' Workshop
(June 30 - July 4, 2002. Gangtok. Sikkim)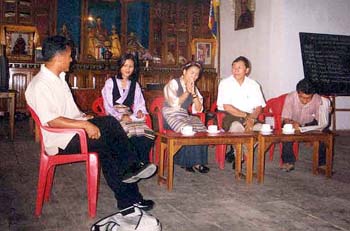 From the drama 'Semgyur' or 'Change In The Mind'

Day Four (Wednesday. July 3, 2002): The attendence has seen no change. It always remained beyond 30. For the first time, the big attendence maintained the bulk of it.

My talk, 'An Activist's Insights' this morning unlike at other places created a lot of interest in the public. Questions after questions, the discussion went on till 11am and the tea break happened only then.

It was time for the drama presentation. Both the dramas were well organised. Group A's drama was called 'Semgyur' or 'Change In The Mind'. It was the story of a Tibetan family where the two brothers constantly fight and criticize each other. The elder Choephel (real name) is a business-minded person thinking only of making money for the family, while he hates his brother always working hard for the freedom struggle which Choephel feels is pointless and leads nowhere. Choephel happens to see a hunger strike in Delhi also the self-immolation of Thupten Ngodup la. This changes his life entirely and apologises for his mistakes. He then starts supporting his brother's activities for Tibet.

Group B's drama was short. It was had only one scene, one location drama. It was based on the workshop and a dialogue between two brothers -- one supporting the Holiness' stand on Tibet and the other supporting Tibet's independence.

Dramas were followed by a very interesting discussion based on the film 'A Force More Powerful: A Century of Non-Violent Conflict'. I briefly ran through the different movements and observed the use of pamphlets, newsletters to reach to the public. Also the economic war people waged against the ruling power there by destroying the power base.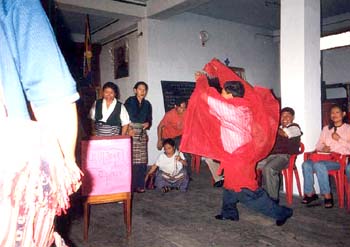 From the Drama: Thupten Ngodup's Sacrifice!


DAY 1 | DAY 2 | DAY 3 | DAY 4 | DAY 5
---
List of Participants (Gangtok): Sonam Gyaltsen, Migmar Phendok, Tsering Dongkar, Dechen Dokar, Tsering Choedhen, Karma, Jimpa Choehel, Karma Thinley Namgyal, Kalsang Tsultrim, Thinley Gyatso, Sonam Tsering, Wangchuk, Chung Chung, Choephel, Palden Tsering, Kalsang Wangyal, Gyatso Bhutia, Tashi Lhadon, Tsering Bhutti, Tashi Choedon, Sangay Choenzom, Lobsang Tsering, Karma Bhutia, Dawa Tsering, Nyima Wangdi, Dechen Choedon, Pema Wangchen, Ngawang Thardoe, Yangchen Dolkar, Kalsang Gyatso, Tanding, Nyima Lhamo, Tenzim, Tensang, Sonam Lhansom, Tsering Yangkyi, Lhakpa Dolma, Thupten Wangyal and Rinchen.