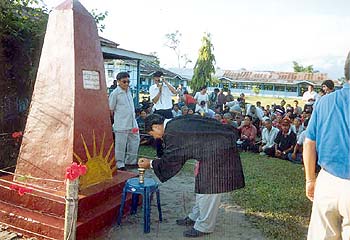 Lhakpa Tsering la inaugurates the 'Martyr Pillar'

Day Six (Saturday. June 1, 2002): It was raining this morning at 5.30am. Participants came on time, not all. Jogging and the physical exercise happened as usual in the rain. After the physical training we worked a bit to make a roof for the pillar which needed to be painted today.

Today, each participant donated some blood to be mixed with the red oxide which will finally paint the 'Martyr Pillar'. We asked the Camp no: 4 leader to come and do some patch work on the pillar. While the work went on, we had the first morning session where we discussed Mahatma Gandhi's 'Hind Swaraj' or 'Indian Home Rule'. Participants did not seem to have read it. So, it was only three people talking -- Karma Yeshi la, Sethu Das and myself.

The second and the last session was used to watch and discuss two films -- 'A Season Outside' by Amar Kanwar and Hortsang Jigme la's talk on 'Return To Tibet To Resolve The Issue', the third 'Heart-Of-The-Matter' discussion organised by the Friends of Tibet (INDIA) in Dharamsala recently.

And it was time for the inauguration of the 'Martyr Pillar'. More than 400 local Tibetans gathered near the pillar. And it was inaugurated by Lhakpa Tsering la, the Tezu settlement officer by lighting a lamp in the traditional way. TT Karma Choephel la spoke on the significance of the pillar and the idea behind and Karma Yeshi la thanked the local Tibetans and participants of the workshop for initiating the work and making the pillar a reality in Tezu Tibetan settlement. And sang the national anthem and the uprising song.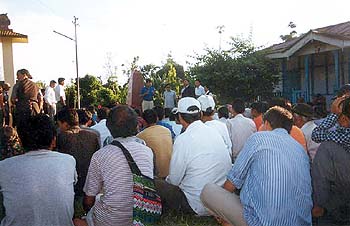 Listening to Karma Yeshi la

We left the settlement the next day morning. Many participants and the villagers had some to say 'good bye' and 'good wishes'. We continued our journey to Tenzin Gang the last Tibetan settlement in Arunachal Pradesh for the next workshop.


DAY 1 | DAY 2 | DAY 3 | DAY 4 | DAY 5 | DAY 6
---
List of Participants (Tezu): Sangay Dorjee, Sangay Lhanzom, Dorjee Khando, Bu Tsering, Jampal Tsantso, Sonam Chokyi, Dawa Dolma, Passang Lhamo, Chime Khando, Tenzin Lhakay, Tsultrim Tsomo, Tenzin Dolma, Lhawang Gonpo, Tenzin Deshek, Tenzin Chokey, Jampal Dorjee, Wangyal Nyima, Gyurmay, Thinley Dorjee, Dawa Dorjee, Thupten Choegyal, Tenzin Sangpo, Nwawang Gelek, Tenzin Kursel, Tenzin Dhondup and Tsering Dhondup.