'Non-Violent Action For Tibet' Workshop
(May 26 - June 1, 2002. Tezu, Arunachal Pradesh)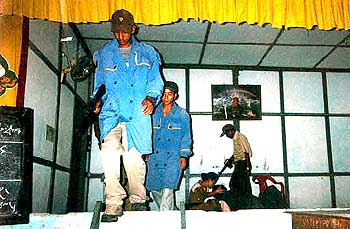 A scene from the drama presented by Group A

Day Four (Thursday. May 30, 2002): The morning physical training went on well. We had many new items to do. There were no more new faces.

Sethu Das' talk on 'An Outsider's View Point' concluded soon as there were not so many questions and comments. So the remaining time till tea break was allotted for 'Drama Practice'.

Group A seemed be prepared. They are more organised and worked hard for it. The drama presentation happened in the afternoon. We invited Lhakpa Tsering la, the settlement officer and some other officials to come and see the drama.

Drama presentation was extremely well done. It was a clear example of a team work and well managed drama made in a short time. Group B could not present their piece. They said they would present it the next day. After the presentation of the drama by Group A, we immediately went for a discussion based on the drama. Many appreciated the view that such short plays can be used as a effective tool in a free country like India to gather sympathy and support for the cause of Tibet.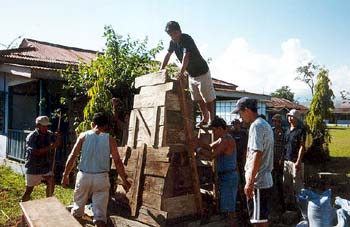 Pillar getting ready to be inaugurated on the sixth day


DAY 1 | DAY 2 | DAY 3 | DAY 4 | DAY 5 | DAY 6
---
List of Participants (Tezu): Sangay Dorjee, Sangay Lhanzom, Dorjee Khando, Bu Tsering, Jampal Tsantso, Sonam Chokyi, Dawa Dolma, Passang Lhamo, Chime Khando, Tenzin Lhakay, Tsultrim Tsomo, Tenzin Dolma, Lhawang Gonpo, Tenzin Deshek, Tenzin Chokey, Jampal Dorjee, Wangyal Nyima, Gyurmay, Thinley Dorjee, Dawa Dorjee, Thupten Choegyal, Tenzin Sangpo, Nwawang Gelek, Tenzin Kursel, Tenzin Dhondup and Tsering Dhondup.