'July 6, 2004: World Tibet Day in Kerala'

(Durbar Hall Ground, Cochin | July 06, 2004)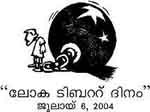 . . . . . . . . . . . . .
Cochin, Kerala: "Kannadi Koodum Kooti" young Dawa Lhamo caroled in a lucid dialect that left the listeners wondering whether they are listening to someone whose forefathers never spoke a word in Malayalam, the language of Kerala. The tumultuous applause that followed brought a smile to her eyes that perhaps said, "Here I am, thousands of miles away from my ancestral land, revered by a group of people, disparate, but never discriminating."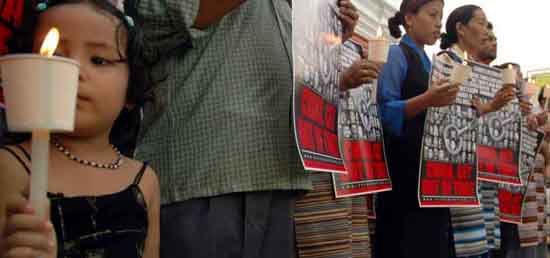 The stage was Ahutha Menon Hall, where Friends of Tibet (India) joined hands with the Cultural Academy for Peace to observe the 'World Tibet Day', which fell on the 69th birthday of the 14th Dalai Lama. Friends of Tibet, a Bombay-based organisation, with 3,700 members across India, signalised the day with cultural meet, candle light vigil and a three-day exhibition of photos and paintings at Durbar Hall.
Smt Beena Sebastian, chairperson, Cultural Academy for Peace, presided over the cultural gathering which was attended by about 50 persons, majority being Tibetans in the city. Speaking on the occasion, Smt Leela Menon, veteran journalist, said that she was extremely surprised to see the way the Tibetans of Kochi have mingled with the our culture. Advocate Issudeen; Shri Sethu Das, President of Friends of Tibet; Dr KS Radhakrishnan, Shri Kalam, Secretary of Fashion Street and Shri Waheed, Secretary of Museum Bazaar were among others who spoke on the occasion. Later the audience was treated to glimpses of the rich Tibetan culture, with the colourful Kongpo dance by Smt Tashi Tsomo and friends.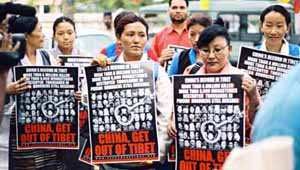 Friends of Tibet (India) which joined the World Tibet Day observance in 58 cities across 24 countries, urged the Indian Government to intercede with China by asking them to enter into negotiations with the Tibetan Government-in-Exile on the future of Tibet, without any pre-conditions. It also remanded the release of Tibetan political prisoners, including the 14-year old Panchan Lama, Tibet's second most important spiritual leader, who is also the world's youngest political prisoner.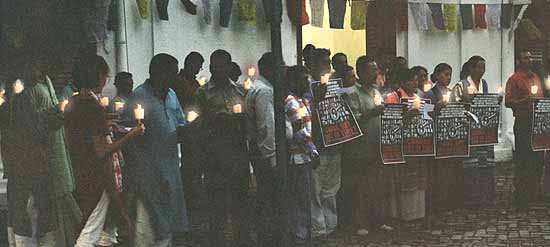 About 100 Indian supporters and members of the organisation and local Tibetans gathered at the Durbar Hall Ground on July 6, 2004 to hold a Candle Light Vigil. Smt Usha Devarajan (Social Worker); Shri Benny Joseph (Janapaksham/NTV); Shri VJ Jose (Greenpeace India); Shri Anup Scaria (Kashi Art Café); Shri Francis Kodankandath (Artist) and Shri Sethu Das (President, Friends of Tibet) addressed the gathering. A two-minute silence and prayer was also observed for the long-life of HH the Dalai Lama.
. . . . . . . . . . . . .
'The Reawakening of Tibetan Dreams' (Report by Divya Abhat | June 23, 2004)
---
'World Tibet Day' was observed by Friends of Tibet (INDIA) in Bombay, Cochin and Pune on July 6, 2004.